Series: Highlighting WiRED's Volunteers
by Annie Stuart


When describing her graphic design career, Ann Britton unpretentiously calls herself lucky—lucky to have a graphic designer visit her junior high class and help illuminate her career path, lucky to get an "in" working with Nike, lucky to have an interesting stable of clients.
But when she came to work as a volunteer with the WiRED International team in 2009, it was immediately clear that WiRED was the lucky one. And, from what she produced, it was obvious her talents were more than a lucky coincidence.
With an empathic ear and seasoned designer eye, Britton took on the challenge of both redesigning the WiRED website and designing the International Telemedicine Network (ITN) website. She offered quick creative solutions and improved the sites' navigation, seamlessly integrating into the existing WiRED team.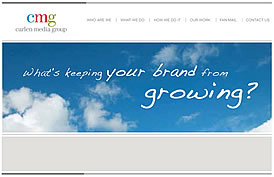 Web site for Carlen Media Group
recently designed by Ann
Graduating from California State University in Chico, CA in 1995, Britton later formed her own graphic design firm called Banana Design. She has been fortunate to work with top-notch designers and advertisers—designing everything from logos and ads to brochures and websites—but her artistic skills and "gung-ho" approach have had something to do with her success.
"After graduation, I put on a suit for the first time and hit the streets of Portland, Seattle, and San Francisco, all places I thought I'd want to live," said Britton. "I did tons of research and picked the top people whose work I liked," she said, describing how she walked into one office and simply declared, "You're the guy I want to work for." He hired her on the spot.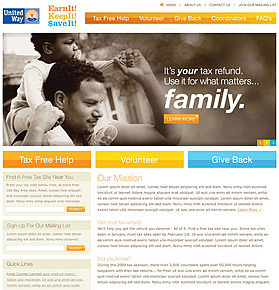 Web site for United Way
recently designed by Ann
It was not unlike her decision to volunteer for WiRED. "I thought, 'they're doing such great work, I just can't say no.'" Although she had done smaller volunteer jobs in the past—such as logos for family-oriented nonprofits—it hadn't been anything quite on the scale of the WiRED projects. And, although her contributions certainly changed WiRED, the experience with WiRED changed her, too.
"I have been lucky in my career, but never given anything back," she said. "After doing this, I feel like I should keep on doing it."
Edited by Kate Mayer, layout by Brian Colombe.