WiRED Makes Second Trip to Amazon, Implements
Health Education Program
by Allison Kozicharow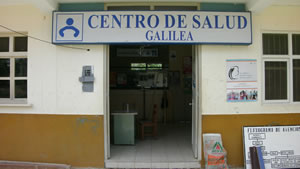 Click image to enlarge
After nearly two weeks on the road, WiRED's installation team has returned from work in the Amazon headwaters where it provided a range of health education resources for the small village of Galilea, located in a remote jungle region of northern Peru. Galilea's health clinic, a primary care facility now outfitted with WiRED's CHI library, serves as a medical resource for villages throughout the region.
The material is designed to give villagers, with no health training, sufficient information to understand basic causes, diagnoses and treatments of illnesses common in the region.
The CHI Library is a collection of more than 100 health training modules that focuses on maternal and child health and nutrition, water-borne illnesses and treatments. The library also includes a wide assortment of educational programs on other health issues. The material is designed to give villagers, with no health training, sufficient information to understand basic causes, diagnoses and treatments of illnesses common in the region. Much of the material stresses prevention, as healthcare services in this remote portion of Peru are quite limited.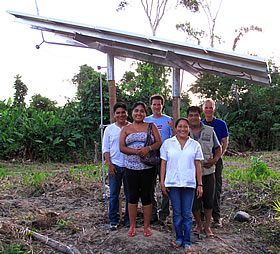 Click image to enlarge
In order for the people to access the library, WiRED provided three low-wattage computers and the solar equipment to power them. For 99% of the population, this is their first look at a computer. As it has in many other locations in Africa and Central America, WiRED staff trained teachers, students and health workers who, in turn, will teach others how to access and operate the interactive programs.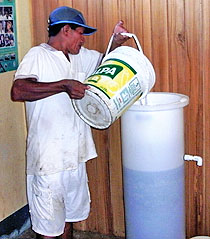 Click image to enlarge
Because contaminated water is such a severe problem in the region, leading to many health issues, WiRED provided information about several water purification techniques. It offered details about biosand filters and brought in a working model that, in several weeks, will provide villagers with clean water. WiRED also introduced water purification techniques that use the sun and household bleach to kill bacteria, viruses and parasites. This material was presented in seminars and is available in WiRED's interactive training modules.
Water contamination often leads to illnesses that cause diarrhea, which brings about dehydration, a killer, especially in children. Because Oral Rehydration Therapy (ORT) is a simple and effective approach to addressing dehydration, WiRED provided training in mixing and administering this simple and highly effective treatment. (WiRED board member Dr. Robert Northrup was one of the developers of ORT more than 30 years ago.) The World Health Organization credits ORT with saving millions of lives each year from dehydration. The problem has been to get out the word—to educate people—about ORT. WiRED's health education programs are ideally suited to the task.
Travel to Galilea is a challenging combination of interior flights, a winding drive over the Andes Mountains and a 10-hour truck route through the jungle, on mostly single lane dirt roads that pass through streams and small rivers. Because the village is not accessible by roads, the final leg of the trip is a four-hour boat ride on several Amazon tributaries. WiRED's five-person team consisted of Brian Colombe, computer technician; Luis Enrique Chochon, coordinator and translator; Frank Omar Chumacero Ruiz, solar technician; Luis Miranda, logistics expert; and Gary Selnow, WiRED's director.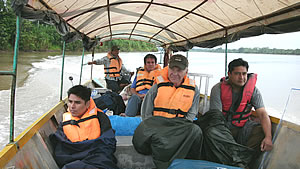 Click image to enlarge
Plans are to monitor this project, and, if the approach is successful, to export the model to villages in other regions that have critical needs for health information.
WiRED Board Chair Anthony Hodge said, "Our Amazon project is off to an amazing start, now we need help from caring people to build on this early success."

— Indira Montero Ravelo, M.D.
Director, Medical Clinic of Galilea

---
WiRED wishes to thank the Polus Center for Social & Economic Development for its support of this project and for its generous donation to help fund the work.
Layout by Brian Colombe.