November 2004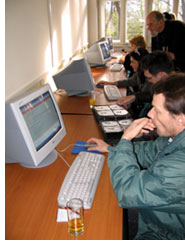 WiRED expanded its Medical Information Center project in the former Yugoslavia with the launch of Centers in the Medical Faculty at the University of Prishtina, Kosovo and at the Medical Faculty at the University of Belgrade, Serbia. Both facilities now provide doctors and medical students with information from a medical CD collection and medical Websites. The Centers were funded by the Medtronic Foundation which has generously supported WiRED's work throughout the Balkans and in Iraq.
WiRED began its work in Kosovo in 1999, just after the war, while collaborating with the Global Technology Corps at the U.S. Department of State. In that project, WiRED provided training and research for the Kosovo Internet Access Initiative (KIAI) which installed public access Internet Centers in eight cities and towns throughout the province. That project, now completed, enabled people in Kosovo to obtain information and to communicate with family members who left for other countries or for refugee camps.
Also through the KIAI, WiRED developed its Video Visit program which enables family members to hold video conferences with ailing children who are sent abroad for medical treatment. This project, begun in Prishtina, and used elsewhere in the region, is now expanding to Iraq where it will operate in each of the 36 Medical Information Centers currently in operation or under construction.
The new Medical Information Center in Prishtina is the first of several Centers planned for Kosovo and the first WiRED activity since the KIAI work. The Center in Belgrade is WiRED's first installation in Serbia. It will be followed within a month by two additional Centers: a Medical Information Center in the Medical Faculty at the University of Novi Sad and a public-access Community Health Information Center at the Novi Sad Humanitarian Center (NSHC).
The focus of the NSHC facility will be HIV/AIDS prevention. AIDS is a growing problem in Central and Eastern Europe and the community outreach efforts associated with this project will test the viability of using information technology to disseminate the AIDS prevention message. WiRED's program on HIV/AIDS prevention, developed in Kenya, is expected to be used in other regions where the epidemic is escalating.
Like the work in Kosovo and Serbia, much of WiRED's work in Central Europe is funded by the Medtronic Foundation. Medtronic is the world's leading medical technology company, providing lifelong solutions for people with chronic disease.