Video Conference with Medical City Center, Baghdad, a Success
by Annie Stuart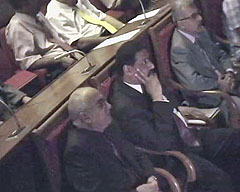 During a two-day conference at the Medical City Center in Baghdad this week, several hundred Iraqi physicians and government officials met to discuss building a Center of Excellence (COE) for the study and practice of medicine. The main goal of the COE Medical and Public Health Unit is to increase medical and public health expertise in the Middle East.
As a capstone to the conference, WiRED International led a forty-five minute administrative video conference on Thursday, November 23, between Iraqi conference attendees and a group of five doctors and consultants at Children's National Medical Center in Washington, D.C.
Speaking from D.C., WiRED's Director, Gary Selnow, Ph.D., made the case for a strong telemedicine program in developing and sustaining Baghdad's potential Center of Excellence.
"No successful healthcare system can operate in isolation and, in this 21st Century, information technologies can bridge any distance to join medical educators and practitioners into a global medical community," said Dr. Selnow. He described WiRED's capacity to deliver rich resources — educational videos, medical libraries, tutorials, and continuing medical education programs, for example — via technology and a consortium of 10 leading medical institutions, the International Telemedicine Network (ITN).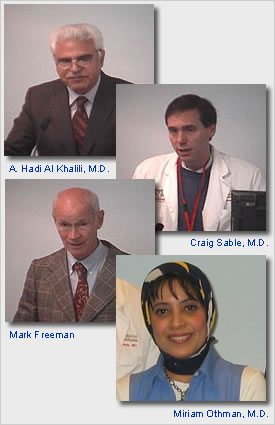 Video Conference Participants
In Washington, A. Hadi Al Khalili, M.D., a renowned neurosurgeon and Cultural Attaché for the Embassy of Iraq, addressed the potential for global collaborations to meet the goals of the proposed Center of Excellence. A pioneer in the application of computer and information technology to medicine and patient documentation, Dr. Al Kahlili established the electronic Medline Library at the Baghdad College of Medicine.
Also participating from Washington were:
Craig Sable, M.D., Medical Director of Telemedicine at Children's National Medical Center and associate professor of pediatrics at George Washington University School of Medicine
Mark Freeman, former director of Healthcare Partnerships in northern Iraq
Miriam Othman, M.D., who received the International Organization for Migration (IOM) General Award in 2004 for providing medical services in Iraq under extremely difficult circumstances
"Iraq, whose medical education reputation goes back thousands of years, can once again become a Center of Medical Excellence throughout the Middle East."
– Gary Selnow
In closing, Dr. Selnow praised the Iraqi efforts to rebuild its healthcare system. "Iraq, whose medical education reputation goes back thousands of years," he said, "can once again become a Center of Medical Excellence throughout the Middle East. We, at WiRED, and all our partners at the International Telemedicine Network stand ready to assist you."
Conference Host
WiRED wishes to thank Children's National Medical Center (CNMC) for hosting this video conference. Ms. Molly Reyna, Telemedicine Program Manager at CNMC, and Mr. Philip Hopkins, CNMC's Technical Coordinator, arranged the facilities and engineered the video conference. CNMC is a member of the International Telemedicine Network and, since 2006, has conducted a number of video seminars with medical schools in Iraq.
Editing by Kate Mayer, layout by Brian Colombe.