Behind the Scenes
by Kate Mayer
There's a saying that those who like films and sausages should never see how they're made. A lot more happens behind the scenes than is readily visible. At the risk of wrecking the magic, we'd like to share a little about what went into the two video introductions now posted on the WiRED and ITN websites. You may want to view the videos first by clicking on the links.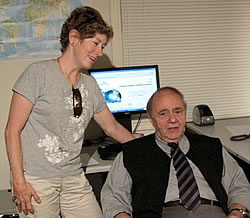 Like everything else WiRED does, creating the videos required a lot of teamwork. When WiRED's Executive Director, Gary Selnow, Ph.D., asked me to write the scripts for WiRED and the ITN, I said I'd do it if he got an actor to read them. No matter what I wrote, I knew if a real professional didn't read it, it would fall flat. "I think Michael Constantine might do it," he said, "Suellen Crano (a WiRED board member) knows Michael. She said he likes our work and has offered to assist us." What luck!
WiRED colleague Annie Stuart edited the scripts and, together with Dr. Selnow, we adjusted them until we were happy. Board member Dick Gilbert, D.D., then reviewed both scripts. His background at NBC made him a perfect script doctor. He had great suggestions and tightened things up. And when Michael Constantine added to his introduction, making an even stronger statement in support of WiRED, we were thrilled. It was more than we would have asked for.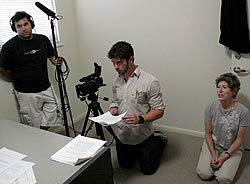 Suellen Crano, Ph.D., took on the task of producing the video. "We used my husband's office at Claremont Graduate University as it was summer vacation and the students and faculty are away," said Dr. Crano. She also recruited director Jason Zeldes, a documentary filmmaker and graduate of the University of Southern California (USC). "Michael Constantine was incredible. He worked hard on telling the right story with the right words and tone. It was clear that he really cared about what he was saying, that he put his heart into it, and as a result, the filming was easy," said Dr. Crano.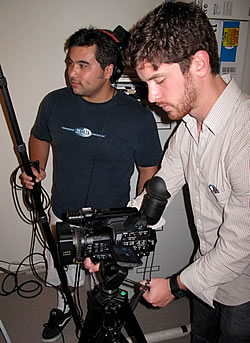 Zeldes concurs, "Michael was great, came completely prepared, and even did a few extra takes for me, which was nice of him since he's an established actor and I'm fresh out of film school." Equipped with three lights, 10 feet of dolly track, and a digital camera, Zeldes got to work shooting the finely tuned script. "The hardest part of the filmmaking process," says Zeldes, "is getting what is in your head onto the tape. In this particular instance the office had many bare white walls, so hiding the shadows was the most challenging part of lighting." Eventually, Zeldes found the trick, bouncing the lights off the walls to create a soft light, and setting one final light spotted directly onto Michael, to make his eyes sparkle.
Zeldes also used a dolly for many of the shots. "I knew that when the final product was cut together, the photos would be panning in and out, side to side. I wanted to shoot Michael's pieces in a similar fashion, so they would flow well with the photo montages."
Dr. Crano also found a way to pull together props for the shoot. "I scoured the area looking for a globe. Apparently, globes are out. I even went to every thrift store and charity shop in town. Finally, I went to the library to see if I could borrow their globe. That was a no-no, but they have a room in which they sell donated books and other things to raise funds for the library. There, at last, I was able to find a map of the world, for the whopping price of 10 cents."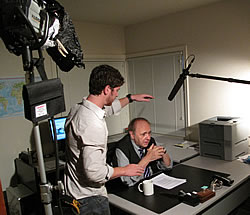 Zeldes' friend and colleague, Brian Rudloff, did production sound on the shoot. He combated the sounds of passing lawnmowers and airplanes by placing the microphone just inches above the shot and spotting directly towards Michael's mouth, resulting in a very clean recording. He, too, is a recent graduate of USC film school with an emphasis in sound design and an interest in interactive media and animation. The pair have worked on several films together, most recently a documentary about war reenactment called "Saturday Soldiers."
WiRED's gifted graphic designer, Ann Britton of Banana Design, shared photos she owns for the ITN video and created the links to the videos on both websites. Our Webmaster, Brian Colombe, helped pull together the logos and photos necessary for the shoots.
Zeldes edited both videos and the final products are now up on the sites. We're very grateful to the many gifted people who donated their time and creative energy to develop these videos—part of the behind-the-scenes magic of WiRED.
Editing by Annie Stuart, layout by Brian Colombe.