PRINT
WiRED International Begins Community Health Information Program in Armenia
BY KRISTEN GARABEDIAN; EDITED BY BERNICE BORN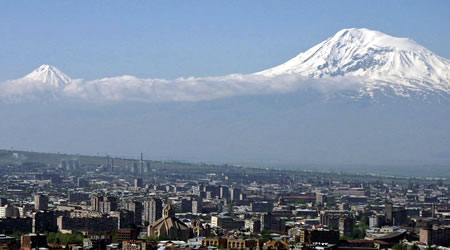 Photo of Yerevan, Armenia, by Ray Garabedian.
A
rmenia has survived earthquakes, war and genocide. Today, poverty and the lack of reliable medical information are creating a healthcare crisis for the people of this Eurasian country. WiRED is pleased to be working with an international team to bring our Community Health Information (CHI) program to Armenia.
In many regions of Armenia, medical and healthcare training is severely limited. Poverty and high unemployment are taking a toll on the population. Many local people cannot afford medical care and have no reliable source of healthcare information, so they turn to ineffective folk cures or quack treatments.
Teaching about healthy practices and harmful conditions, and training people to recognize signs and symptoms of illness can go a long way to improve health and reduce the need for costly treatments. "I have lived with families during my visits to Armenia and was shocked by the level of misinformation in the community, which is a direct result of poverty and people not consulting the existing professionals," said Dr. Ara Nahabedian, an orthopedic surgeon in England, who is working as part of WiRED's international team for this project.
WiRED volunteers will travel to Armenia in May to meet with international team and program leaders and visit the five pilot communities of Amasia, Chambarak, Gavar, Noyemberyan, and Vardenis, which have been identified as places for CHI center installations. These centers will provide doctors, healthcare workers, and all community members with critical information about the illnesses prevalent in their communities. WiRED will train local workers to operate our healthcare computer programs and assist people who come to the centers. WiRED will also work with Armenian medical organizations to develop new modules addressing special needs in Armenia. The modules, which all contain interactive training materials, will be translated into Armenian, and voiceovers will be provided for people who cannot read. Once these five pilot centers are successfully launched, additional CHI centers will be planned throughout Armenia.
For this project WiRED is working with individuals and organizations around the world, including the aforementioned Dr. Nahabedian, retired United Nations Program Officer Sebouh Baghdoyan, the Armenian Caritas, the Diaspora Armenians, and the Armenian Medical International Committee.
To contribute to this effort in Armenia, please donate here and specify that the funds are for the Armenia project.