Spotlight: Santiago Castellon, Clinical Psychologist, Nicaragua
by Stacy Trevenon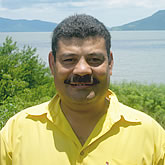 Early in 2001, in Leon, Nicaragua, Santiago Castellon opened the Ben Linder café. This small restaurant and bar served organic coffee and healthy meals, but it needed something more to draw in customers. Residents of Leon also needed something more—access to the Internet. So Castellon and his partners decided that the Ben Linder would become a cyber café.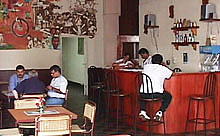 Ben Linder Café
Castellon discussed the idea with a colleague, Michael Lundquist, who directs the Polus Center, a U.S.-based organization that employs local workers in manufacturing prostheses for victims of land mines. He told Lundquist about his plans for the Ben Linder but said he didn't know much about the technology and he didn't have funds for the cyber components.
Lundquist "called me to say we're lucky because I know about a guy (who) is working with the Internet," Castellon said in an email communication. "His name is Gary Selnow and his organization is called WiRED International."
Castellon and Selnow met—and many lives changed.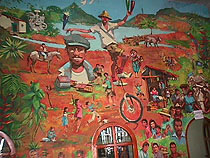 Mural in the Ben Linder Café
In the years that followed, the cybercafé materialized, but so, too, did a program that supplies Internet resources to medical communities in Nicaragua, Honduras, and El Salvador. "Once Gary visited Nicaragua, I totally changed my mind about priorities, as I understood physician and community health needs around Central America," Castellon explained.
Castellon, a clinical psychologist, was referring to areas where people's average incomes range from $25 to $50 per month, and where patients die because of a lack of medical help amid a shortage of updated knowledge and health resources.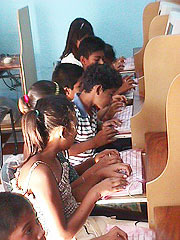 Such stark conditions are something Castellon understands. He grew up in a poor neighborhood where violence was common. That was, he said, one of the reasons he enrolled in the Nicaraguan Army at 14. Later he was accepted into the service that provides security to key military figures.
More recently, his focus has been humanitarian. Working with WiRED, which secures financial assistance through grants from Rotary and other organizations, Castellon makes arrangements for computer installations with rural and urban health centers.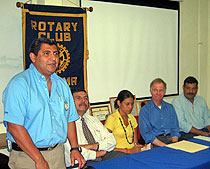 In over nine years, that work has spanned more than 10 communities in three countries. A partial list of medical centers includes Leon Hospital, Sutiava Health Center, Guadalupe Health Center, Ben Linder Cafe Center, Ocotal Hospital, San Marcos de Colon, Choluteca, Jicaro Galan Community Health Center, and Santa Guadalupe Hospital.
"The Medical Information Centers (MICs) offer a network of Internet-linked computers allowing physicians to access the latest medical information. For many, if not most physicians, it's access for the first time," said Selnow. "In addition, WiRED is about to roll out a host of new Web tools that will enable physicians in Central America and many other regions to take specialty training courses for continuing medical education."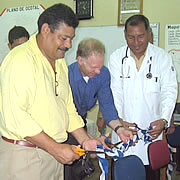 MIC ribbon-cutting ceremony
Entire communities realize the benefits, stated Castellon, given that the resources provide doctors with "the opportunity to offer quality treatment. They also allow medical students to obtain more theory and practical experience [in] their training.
"The best way to measure the impact of WiRED's work is simply to listen to the great stories of the doctors and community members. Now, doctors have more access to outside sources for use in their fight against diseases. Medical students use the resources for research and investigation and this exposes them to valuable information outside the classroom."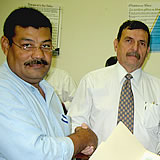 Castellon cited a young doctor confronted with an unnerving case that resisted diagnosis. Alarmed, she went to one of the MICs, and found "not only the answer to her question about the sickness she was looking for, [but] an opportunity to get a scholarship for study in Mexico. She is currently there, in Mexico City."
In addition to his work with WiRED, Castellon has worked for more than 12 years with Polus. Castellon is also an active member of the Leon Rotary Club and is serving as this year's chapter president.
"I am fascinated with the work that I do because I have the opportunity to help people with disabilities and vulnerabilities in the poorest communities," he said.
Editing by Allison Kozicharow, layout by Brian Colombe.