WiRED's Work in Iraq: Part #2
BY WIRED DIRECTOR GARY SELNOW, PH.D.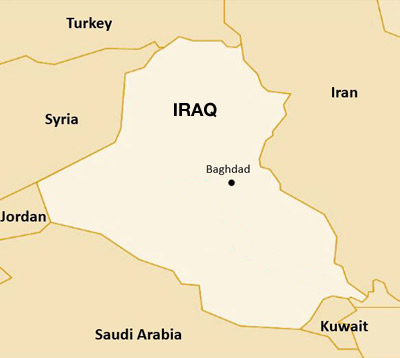 This chapter on WiRED's work in Iraq begins in Kosovo, where I first met Che Pangborn, an American computer expert with a remarkably sunny disposition. Che configured the video software that enabled ailing children who were being treated at a hospital in Pisa, Italy, to communicate with their parents back home in Pristina, Kosovo. Then, Che worked with us in Kenya, to train our staff how to network computers. Now, Che figures prominently in our Medical Health Information Center (MIC) program in Iraq, where this story picks up. [Read the first installment of WiRED's work in Iraq here.]
Before leaving Iraq after my first visit, I frantically searched computer shops in Baghdad to find hardware for the MIC we would install at the largest hospital complex in the country. I found a good lead in Talal, an Iraqi businessman who saved his computers from the violence of war by securing them in a barn outside of town. He said he would bring a dozen computers to Baghdad when I returned.
Now, two weeks later, in early June 2003, Che and I arrived in Baghdad on a C-130 aircraft from Kuwait. Che brought diagnostic equipment and tools, and I carried hundreds of CDs containing the latest medical training courses, which comprised the core of our program until we could arrange for an Internet connection.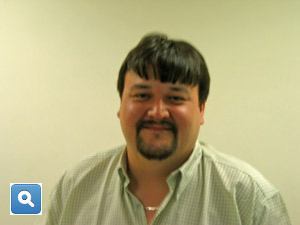 Che Pangborn
Even though I had been absent from Iraq for only two weeks, my room at the palace was repurposed, and I learned at the last minute that WiRED staff was no longer permitted to stay in the Green Zone. So, Che and I scrambled to find a place to stay. Baghdad was a dangerous place. The sounds of gunfire and explosions rang through the city day and night. Streets were unsafe; officials traveled with heavy security and only in convoys. With the Green Zone off limits, we were in an uncomfortable position.
We had few resources and little time to decide what to do. Using a borrowed satellite phone, I got a message to our State Department contact in Washington, Pen Agnew, who for the past several years had become a godfather to WiRED. "Pen, we're stuck. We aren't welcome in the Green Zone, we're in Baghdad and need somewhere to stay for at least a night and probably more. Any ideas?"
Pen didn't have many cards to play on our behalf, but he drew an ace when he connected with the CBS news crew in Baghdad, who had found a hotel for their correspondents and technicians. He asked if they could help us. Their answer: yes and no. The hotel where they were staying was full, but a CBS staffer reached out to a friend at NBC and learned that the NBC crew stayed in a hotel that had a few extra rooms.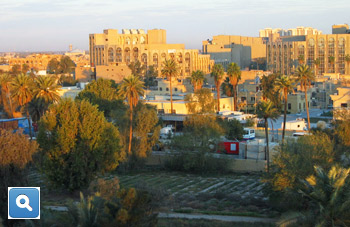 Baghdad city view
Che and I got a ride to the small hotel on a back street in a residential neighborhood that had seen its share of violence in the past month. The cramped lobby had a traditional woven carpet on the concrete floor and kitsch stuffed everywhere, such as dolls, tiny framed paintings and bright handmade mats, all probably for sale. A receptionist, who had been expecting us, said, yes, they had two rooms with running water, a generator (put to frequent use) and a breakfast buffet. Even before we walked into the hotel, Che noticed a kebab place across the street, and that sold it for us. We took rooms on the second floor and prepared for our work at Medical City Center, which was a few miles away. We will be forever grateful to Pen and the CBS and NBC crews for helping us out in that really tight spot.
The next day we had two tasks, and, because Baghdad was without Internet or phone service, all business had to be face to face. Our first task was to meet up with Talal, the computer vendor who said he could get his hands on a dozen desktop computers. If he actually got the computers, and if they met our requirements, we would proceed with the deal.
Che and I arrived at Talal's walled-in house and announced ourselves to guards standing behind the iron gate. The guards recognized me, but Che was new and they were wary. Che's a big guy. He's not intimidating, just big, and he carried a large backpack filled with test equipment and tools. The guards sized up Che, figured he was okay, and then let us into the yard. They directed us to the house and up the narrow stairs to the same room where I first met Talal. He was waiting and greeted us warmly with handshakes and a confident look signaling to me he had gotten the computers he promised.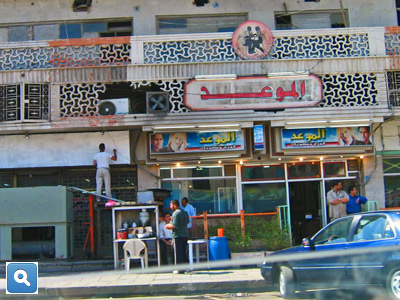 Shop in Baghdad
"I can tell by your grin, you got the computers."
"Of course, didn't I tell you I would?"
"Yes, you did, and not that I doubted, but lots can go wrong in Baghdad."
Before we went further, someone brought in sweet chi and some spicy cake. Che and I described our trip from the United States, told how we found rooms at the hotel and confirmed that we had the CDs and everything else we needed to get the work underway. Only after we finished the tea did we get down to business. The cake was incredibly good, and I would have liked to have put the leftovers in my pocket, but decided pilfering baked goods wasn't a good way to get this business relationship started. So the cake stayed, and we left the room.
"Che brought his tool kit, and we will need to take apart one of your computers."
"As we agreed. Come take your choice."
We went to a room where boxes of computers were stacked high. Che selected one from the middle of the pile and took it apart, examining every component, bench-testing it down to the last chip. While Che ran his diagnostics, Talal and I discussed how we would get the computers to Medical City Center and, of course, payment for the computers.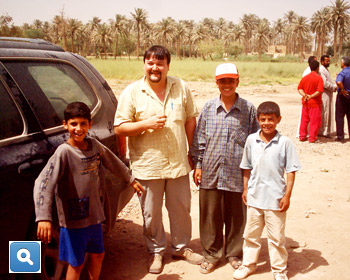 Che in the field
Che's tests came up clean; the computers were everything Talal had promised, so we had a deal. I told him we would get back to him with details about where and when to deliver the computers. I peeled off a large number of 100-dollar bills, which took an inch off my hidden money belt and allowed me to breathe again. In cash transactions overseas, and especially in the Middle East, every bill has to be perfect — no folds or creases, wear and tear. At WiRED's bank in the United States, I had a standing order for new, flawless bills.
Our next stop was the Green Zone. We couldn't stay there, but I wanted to let officials know about our plans at Medical City Center and invite them to participate in the opening ceremony. Funding from the State Department was supplemented by donations from Medtronic, Pfizer, the American Federation of Teachers and many individual contributors, and those pooled funds enabled us to pay for the MIC. While this project was not totally an American government project, it was an American project, and so I informed officials that we were setting up the first medical education facility in Iraq and invited them to attend. "How about making a speech?" Aha! That got their attention. No official can resist a chance to stand in front of a microphone.
Even though the kebab place was across from our hotel, we couldn't count on its being open when we needed to eat, so before leaving the palace, we loaded up on as many Meals Ready to Eat (MREs) as we could fit in our backpacks. American made MREs were staples for civilians and military personnel immediately after the invasion, before the food services were completely organized. Troops on missions relied on MREs in those days. Sure, people complained about them, and while you could certainly tire of them, they were a huge improvement over the C-Rations I recall from decades earlier.
There was a stash of MREs in the palace basement, just across from a huge safe that was said to have held millions of dollars. The claim of money was probably apocryphal, but I enjoyed thinking how nice it was to be within a few feet of millions. At that point, though, the MREs were a lot more useful, so we left the palace with the food and didn't give the cash another thought. (The MREs, it turns out, were lifesavers later in the trip, when the kebab place mysteriously closed, and we had no other options.)
During the next few days, Che and I worked with Iraqi doctors and officials at Medical City Center. We demonstrated the CD-based medical training programs, shared the collection with medical librarians, and asked senior hospital officials for their help in convincing American engineers to provide an Internet connection for the new MIC. We found a large room for the new center, got tables and chairs, extension cords and everything else we needed to install the hardware.
Talal delivered the computers, and Che began to assemble the MIC. Local Wi-Fi networks weren't available back then, so he hand-wired each computer to the router and configured software so that the network would be Internet-ready when a connection became available. Our CDs would provide a good start, but the Internet was an essential access point for these isolated doctors.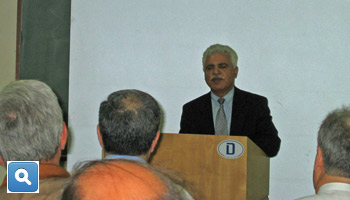 Dr. Hadi Khalili, official at Medical City Center, later
Cultural Attache at the Iraqi Embassy in Washington, D.C.
Finally, we needed to organize the ribbon-cutting ceremony for officials, the media, physicians and students at Medical City Center. I had already invited several American officials and Iraqi administrators to speak at the event. Then, word got out and a flood of requests came in from people who wanted to say a few words. A long ceremony would be fine, and because it's better to invite too many speakers than to overlook someone essential, we let the speakers' list grow. Besides, reasons to celebrate were scarce in Iraq, and a ceremony seemed like a good tonic for everyone.
This was one of the early, non-military "accomplishments" in Iraq, and people were looking for something, anything, to celebrate. They would have celebrated a day without gunshots and explosions, except that never happened. Under other circumstances, opening a computer health training facility couldn't muster enough people for a card game, but these times were different. It was clear that opening the MIC was about more than switching on a few computers. It became a symbol that good things were happening, that the invasion was beginning to yield results. Very small steps, yes, but in the right direction. Launching the MIC was a special accomplishment for WiRED, and the groundswell of interest was rewarding. We were, arguably, the smallest nongovernmental organization (NGO) in the country, almost certainly the one with the smallest budget and with the smallest staff (two volunteers, neither of whom was allowed to stay in the Green Zone). And here we were, setting up a new facility that stood to enrich the Iraqi medical community.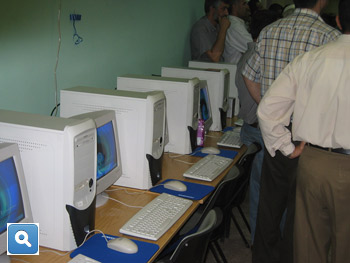 Computers at the Medical Information Center
in Medical City Center
We arranged the ribbon cutting for June 24, 2003, just over a month after WiRED first arrived in the country. Seventy-five people poured into the room; then, as luck would have it, a city-wide power outage struck in the middle of the ceremony. No surprise to this group; the power always went out, so, without much notice, the speeches went on as planned. Emergency generators ran the lights, but not the computers, so we used small battery back-ups to demonstrate the equipment and the training programs. Except for the minor power issue, the ribbon cutting came off without a hitch. (Read a description of the ceremony here.)
Che and I visited Medical City every day for the next week to tune up the network and to talk with the doctors and students who lined up each morning to use the equipment. Fox News was particularly interested in this American contribution to the Iraqi medical community and did several stories on how the material helped doctors. I recall Fox reporters interviewing an Iraqi burn doctor who described how he came away with useful new techniques that he began using with his patients.
Over the next several months, WiRED installed eight additional MICs in hospitals throughout Baghdad. Each had four computers — a workable ratio of computers to staff — and this allowed medical professionals around that city of some seven million people to obtain information on medical developments they had been denied for so many years.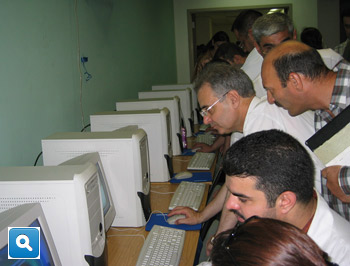 Doctors exploring the new computer programs
WiRED set up a MIC at the Spinal Cord Center in Baghdad where Iraqi specialists treated soldiers suffering from nerve damage. On August 19, 2003, an explosion destroyed the Canal Hotel, which housed the United Nations Headquarters in Iraq. The Spinal Cord Center was next to the hotel, and it, too, suffered extensive damage. Repairs began immediately, and, within a month, we were able to restore three computers and replace the CDs to get the MIC up and running again. A year later, the Christopher and Dana Reeve Foundation provided financial assistance to enable us to completely restore the center.
WiRED eventually installed 39 MICs from Basrah in the south to Dehuk in the north, but, as Iraq plunged ever deeper into chaos, with doctors and medical facilities targeted by terrorists, the computer facilities came into the line of fire. Like the MIC at the Spinal Cord Center, some were destroyed by bombs, others were looted and vandalized. We put locks on the doors, but locks are frail defenses, and, over the years, much of our work was undone. The depths of Iraq's violence became all-consuming.
WiRED provided the first health education facilities, and we also launched the first medical teleconferencing program in Iraq. We organized training sessions between doctors in the United States and doctors in Basrah, Baghdad and Erbil. Medical educators, including Craig Sable, M.D., at Children's National Medical Center in Washington, D.C., and at the University of California at San Francisco (UCSF) provided lectures and Q&A sessions for large audiences of medical professionals in Iraq. The novelty of a video link in 2003 was an attraction, yes, but the lectures and the interactions offered medical information and collegial exchanges valuable to participants on both sides of the teleconference.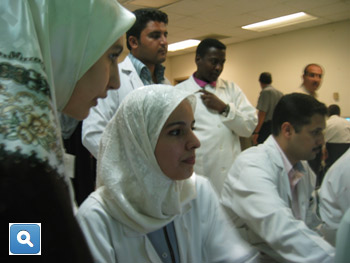 Physicians looking at new computers during the opening ceremony at Medical City Center
I recall sitting in on a teleconference at San Francisco State University at six o'clock one morning, when a young nephrologist from UCSF spoke with doctors in Basrah who were gathered in a theater-style lecture hall. It was 5 p.m., Iraq time. As the nephrologist, a woman, began her lecture, I watched on the camera feed from Basrah that the male doctors sat casually in the front rows, while female doctors sat in rows farther back.
As the UCSF doctor, a well-recognized authority in her field, proceeded with her lecture, I noticed a change in the audience. Women doctors in Basrah quietly moved up toward the front of the room, and the male doctors sat up and actively took notes. It was my impression that, beyond the medical contents of this lecture, the nephrologist had two effects on her audience. For the women doctors, she instilled interest and confidence. They moved forward to become closer to the screen, to the woman speaker, to hear every word. For the men, the young woman expert in San Francisco engendered respect. Here was a young woman specialist, who clearly had an impressive command of the research and the details of her complex subject. Iraq is a patriarchal society, and a woman medical expert lecturing to male doctors had not likely occurred very often.
Like all other teleconferences, this one ended with a long discussion. Most of the conversation was about the lecture, but it broadened to other technical matters and beyond to general interests in daily life in each location. These lively exchanges about medical topics and everyday matters convinced me that the telemedicine program could have improved the practice of medicine and provided a forum for cultivating relationships among American and Iraqi physicians. Sad to say, challenges to the program became overwhelming, and we were unable to sustain the program.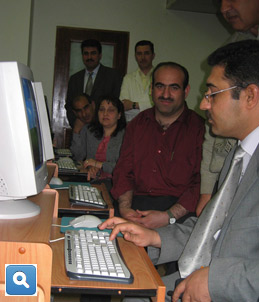 Dr. Khalid Mayah working on a
medical training program
What happened? For one thing, we had insufficient funding to meet the high technology expenses for such a program. We bought the expensive equipment once, but the high-price satellite time was ongoing, and we couldn't afford enough bandwidth for regular and stable connections. The signal would often break up, and we would lose audio or visual; on more than one occasion we dropped the teleconference entirely.
Another reason the program faltered had nothing to do with money or equipment or poor satellite connections: it was the growing violence in Iraq and especially the violence directed at the medical community. It's difficult to understand why the insurgents would target physicians, but that's what they did. The Lancet medical journal estimates that between 2003 and 2015, more than 2,000 doctors were killed in Iraq. Meanwhile, thousands more and their families had been run out of the country.
Our work in Basrah connected us with Khalid Mayah, M.D., a neurosurgeon and director of the AL Sadar Teaching Hospital, a gentle man who enjoyed the enduring respect of his colleagues for his medical expertise and his natural leadership skills. On one occasion in 2004, after finishing my work in Basrah, I planned to hire a car for a ride to Baghdad where I had another project. Despite my protests, Dr. Khalid ruled that out and instructed his drivers to take me in an ambulance for the six-hour trip. In those days ambulances were less likely to be attacked, so this was a safer way to travel. By 2005, no means of transportation was safe, and ambulances had become even more vulnerable than other vehicles.
Dr. Khalid and I stayed in touch by email over the years as he promoted use of the MIC among his staff and instituted his online medical journal, a long-time dream of his. I recall discussing peer-review procedures for articles submitted for publication, marketing and other details of his journal. Then, in 2008, his emails stopped. I learned months later that one night Dr. Khalid was grabbed on his way home from the hospital. The next morning his body was found with three bullets to the head. Kidnappers later said that he was too close to allied forces. He also was a leading medical figure who drew the respect of his colleagues, and for the insurgents in Iraq, that was enough.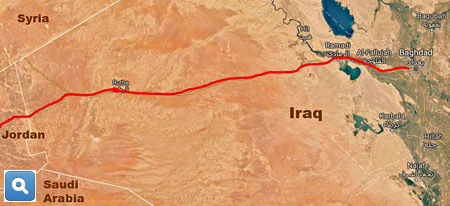 The road from Baghdad to Amman
Another physician I met about a year after we came to Iraq was Miriam Othman, M.D., a primary care physician working with the Iraqi Ministry of Health and The International Organization for Migration (IOM). WiRED collaborated with IOM in Iraq, and that's how we met Dr. Othman. With her help and connections with hospitals, we were able to put programs in place much faster than if we had had to forge new relationships painstakingly at each facility.
Another of Dr. Othman's responsibilities with IOM was to accompany ailing children from Iraq to Jordan, where they could receive advanced care for life-threatening illnesses. The trip through western Iraq — part of the Syrian Desert known as Al Anbar province — from Baghdad to Amman was long and difficult, made increasingly so by violence that arose in Fallujah and Ramadi and then spread throughout the western part of the country.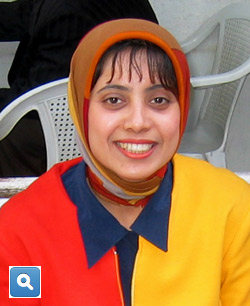 Dr. Miriam Othman
On one occasion, Dr. Othman planned to visit Amman for a series of meetings, and I hitched a ride to work on an unrelated project at the King Hussein Cancer Center. We hired a small van and a driver and a body guard, who, it turns out, didn't have a gun; not that it would have mattered. Fallujah is a little more than an hour out of Baghdad, and that's exactly how long it took for our van to break down, leaving us stranded on the side of the road within sight of Fallujah. As luck would have it, an American convoy heading toward Baghdad passed us and was promptly attacked by insurgents. Meanwhile, we sat idle in the van, unable to drive away or flee into the desert. This is a long story, but the shortened version is that, after the battled ended, the convoy continued on to Baghdad, the insurgents diffused into Fallujah, we were eventually picked up by another van. In due time, we made our way to Amman. In Iraq, even a simple day trip could quickly become a tribulation.
Like other physicians Dr. Othman faced increasing threats, including having the window shot out of her car while she was driving. Then, one day, insurgents came to her home, put a gun in her face and gave her 24 hours to leave the country. Knowing this was no idle threat, Dr. Othman and her family left the next day for Dubai. She became one of the many thousands of physicians forced to flee Iraq or suffer the tragic fate of so many others.1
Knowing well their vulnerability, in time, doctors understandably became reluctant to assemble in groups for teleconferences. Getting them to and from the conferences, then gathering them in one room was unwise and made the training program increasingly difficult to sustain. For a while, our teleconferences in Medical City Center continued, because doctors would spend the night in the hospital and not attempt to venture home after the session. Their willingness to sleep on a gurney in the hall suggests how valuable the conferences were to them. Such an arrangement was not sustainable, though, and although we struggled to keep the program alive, we reluctantly pulled the plug.
Attacks against doctors continued, but the level of violence for everyone throughout Iraq grew worse. My own travel and accommodations became a growing challenge. I rode in broken-down cars, with windows taped up to seal cracks but also to reduce my chances of being seen. I moved from hotels to safe houses. Even these precautions became untenable; I couldn't do my work. Even if I could have moved freely, that would have had minimal impact. The personal risk faced by physicians reduced their access to our programs, and time spent on continuing medical education at our facilities became a risky extravagance.
WiRED had been working in the Kurdish north for several years, but as violence overran the rest of the country, we shifted most of our efforts to the northern region. That's where I'll pick up this narrative in the final discussion about Iraq.

This is the seventh story in a series about WiRED International. How it evolved; how it went from providing computers and Internet connections for towns and villages in underserved regions to focusing on medical and health education using computer technology. How it expanded its work throughout the Balkans to Africa, Central and South America to the Middle East and Eurasia. How WiRED's training programs, carried by the Internet, have now become global resources, used by hospitals and clinics, schools, other non-governmental organizations and universities.
An element of WiRED's operation that repeats in every story is that all of WiRED's programs are run mainly by volunteers who have made it possible for WiRED to provide medical and health training programs cost-free to everyone. WiRED's administration is volunteer, we have a volunteer board, and our writers and editors are volunteers. A small paid staff builds and shepherds the training modules through the production process, but even their work is augmented by that of volunteers. I'm proud of the people in the United States and abroad who donate their time and lend their talents to this organization's efforts to provide people in low resource regions with some of the finest public-access, health training material available anywhere.
1 Eventually, Dr. Othman came to the United States to study on a Fulbright scholarship at George Washington University, where she earned her master's degree in public health. She now teaches at a medical school in the United States, is WiRED's Director of Medical Programs and is a board member as well.

Testimonials on WiRED's Work in Iraq

WiRED International is a vital humanitarian organization ideally suited with the experience, technological and programmatic skills needed to carry out this work. WiRED was one of the first organizations to assist with information programs in Croatia and Kosovo after the end of hostilities there, and is a brilliant choice to work with the Global Technology Corps of the U.S. Department of State to support the rebuilding of the medical community in Iraq.


— U.S. Congressman Tom Lantos (D-CA), the ranking Democrat on the House Committee on International Relations. (During his tenure as chairman of the United States House Committee on Foreign Affairs, Rep. Lantos carefully watched U.S. involvement in Iraq and noticed WiRED's performance there.)
For many years, Iraqi physicians have been denied access to medical developments taking place outside our country. That has made the practice and the study of medicine more difficult and it has denied our professionals the opportunity to offer Iraqi patients the latest, and often most successful diagnoses and treatments. In 2003, WiRED International began supplying our medical schools and teaching hospitals with computer based libraries. The CDs and now hard drive libraries and the many Websites gave our doctors and students an opportunity to read the latest medical journals and catch up on the most recent technical developments. We are eager to see this Medical Information Center project expand from the current facilities to many other hospitals in Iraq. Information is key to our profession and we are pleased that WiRED has been able to assist our medical community with this innovative, effective and most welcomed information support.


— Iraqi Ministry of Health
I just wanted to tell you how thankful we are here for the services provided by the information centre that Wired International instituted in Basrah. You have given us a very resourceful information centre and the Internet site connections WiRED provided us with made it possible for us to obtain literature that was, otherwise, out of our reach. The centre you erected here is very busy and many times one has to wait to get a free terminal — just to let you know how beneficial it is for us on daily basis. Everybody here sends you their greetings, and we hope that you can widen the scope of your help for us because we are in serious need for it. And we have noted earlier, out of all the people who promised us "the wonderland" you are the only one who really delivered us one. Keep up the good work, God bless you.


— Safwan A. Taha, M.D., CABS


Professor, Department of Surgery,


University of Basrah College of Medicine


Consultant Surgeon (Gastroenterologist & Laparoscopist),


Basrah Teaching Hospital


Basrah, IRAQ
I just wanted to tell you that our books have been out of date for many years, we have had no reliable source of medical information. The WiRED Centers, with computers, CDs and Internet access provide our first connection to technical data developed by researchers and doctors in other countries. This information obtained at the Medical Information Centers has been a genuine benefit to me personally and to other Iraqi physicians. Thank you very much for your big help to us Iraqi MD's and hope you may be able to bring us further programs that will help other health staff and not just Iraqi MD's.


— Dr. Rani Monther


Graduate medical student


Al-Kindy University for Medicine