Nicaragua
BY WIRED DIRECTOR GARY SELNOW, PH.D.

It's a custom in many countries for religious leaders to bless new facilities, such as new offices, schools and community programs. In Nicaragua, a predominantly Catholic country, a priest will generally perform the ritual, which involves a prayer and maybe a brief homily before a gathering of well-wishers. And so, while WiRED remains firmly nonsectarian, ensuring its neutrality in all countries, we typically follow local customs when launching a new health education program.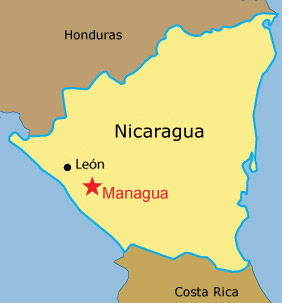 Fifteen years ago at the Ben Linder café in León, Nicaragua, 60 people gathered to celebrate the launch of new computer facility. For this work, WiRED partnered with the Walking Unidos, a local organization that provides prostheses for war victims and for people who have few resources. In a large room, we set up 20 computers for students from a nearby medical school and for others who wanted to drop in, so they could learn how to operate a computer and use the Internet. In 2002, computer technology and the Internet were novelties in Nicaragua, the poorest country in Central America and the second poorest country in the Western Hemisphere.
The launch of WiRED's center at the Ben Linder was a big event in this small town. A banner in the street announced the launch. Colorful streamers and balloons decorated the café inside and out; drinks and party food filled tables for the guests who were gathering to launch the new facility. Loudspeakers boomed traditional music, and the shiny new computers, all lined up, were turned on, with each screen displaying a bright WiRED logo. That afternoon the café was lively, loud and festive, a celebration very much in the Central American tradition.
A priest who had agreed to bless the new center showed up in his cassock and brought along two acolytes to assist in the ceremony. As the priest completed his preparations, the Ben Linder staff turned off the music, and someone tapped a glass with a spoon to signal it was time to begin. A silence quickly fell over the room. Santiago Castellon, director of the Walking Unidos and master of ceremonies for the event, offered words of welcome and introduced other speakers, each of whom described the importance of this event and the value of this technology that links a small town on the western edge of Nicaragua into a global communication network. Santiago provided a Spanish translation of my brief speech, and when I was finished, it was time for the priest to bless the computers and the new center.
Santiago and I flanked the priest as he approached the first computer. He said a few words of blessing, made the sign of the cross, then turned to one of the acolytes who held a large bowl of holy water. The priest dipped an aspergillum into the bowl and began dousing the computers.
Oh no!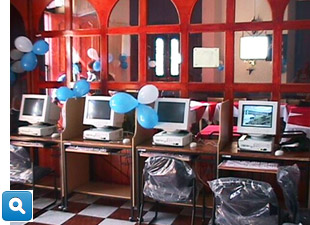 These were delicate electronic devices; had no one told the priest that water could be unkind to hard drives and motherboards? And he wasn't sprinkling just a few drops; he was giving the computers the full treatment, a full-blown blessing, which was much more than these computers probably needed . . . or deserved.
The priest was praying to God to bless the computers, and I was praying that the priest didn't short out the network. On such a solemn portion of the program, I didn't dare say anything. (How would you even ask a priest not to use so much water? He must know how much it takes for the job.) And so, Santiago and I, the priest, the acolytes and the holy water moved to each computer in turn, providing generous blessings all around. It was truly a miracle that none of the computers shorted out, which I interpreted as a sign that the new network, having made it through the ceremony, was, after all, truly blessed. That would seem to be confirmed over the next several years as those computers offered thousands of medical students and the people of León reliable medical information and Internet access.
---
As I noted, WiRED teamed up with the Walking Unidos; we did not go into the Ben Linder café to launch any project on our own. From our earliest days in the former Yugoslavia to our latest projects in the Peruvian Amazon and in the mountains of Armenia, WiRED has always partnered with other nongovernmental organizations (NGOs), medical schools, hospitals and clinics. No one knows the needs of the people in a region better than someone from the local community or someone who has worked there for a while. Partnerships are central to all our work.
Over the years, the nature of our partnerships has changed. Initially, WiRED underwrote the entire operation, from purchasing hardware, supporting staff, supplying all the training, management and software necessary to run a Community Health Education Center. WiRED exists by grants, and grants that provide for such a level of support are scarce, so we had to revise our approach.
Our new strategy focused on supplying partners with the tools they needed to offer medical and health training. Partners provided the location, management and overall direction for their in-house programs and outreach efforts. We assisted with hardware when grants permitted that. We provided the professionally developed education programs — the modules that serve as the foundation for individual and group training activities.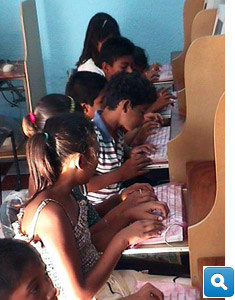 Moreover, in the past few years, WiRED has allocated more of its resources to the electronic distribution of modules, enabling audiences anywhere in the world to access our educational material cost-free via the Internet. This strategy allows our partners and others who are interested in health education to take the courses online. But we also have created tools that allow people, especially in regions where Internet access is restricted or bandwidth is limited, to install modules directly on their laptops. Accordingly, users need to visit the Internet only long enough to download a module, which will then be available for use offline. Downloading reduces concerns about the reliability of an Internet connection and its cost. Furthermore, once the health training program is loaded on someone's computer, it's easy to share that program with others by using flash drives and other portable media. None of WiRED's programs is copyrighted; we urge people to share our material widely. Our mission is to get these programs into the hands of as many people as possible, and free-sharing furthers that objective.
Our work in Nicaragua reflected the technological and programming changes that allowed us to reach more people with a wider range of health education material. At one time we brought in computers and other hardware and set up centers in hospitals, clinics and universities; now we support the outreach programs conducted by these institutions. Rather than having a physical facility where people can come in for training, our partners take the training programs on the road — using laptops and projectors for group presentations in schools, churches and community facilities — anywhere people gather to learn about an infectious disease, chronic illness, health and sanitation issues or other topics in our inventory of training material.
Our partnership with the medical school in León (Universidad Nacional Autónoma de Nicaragua) offers a useful example of how these partnerships and outreach programs work. We learned several years ago that fourth-year medical students are required by their universities to go into communities — towns and villages, some in built-up areas, many in remote, hard-to-reach places. The students create their own training plans, then, using chalkboards, deliver their lectures to the communities. Topics are typically about life-threatening infectious illnesses, such as dengue, chikungunya, Chagas; or maternity-related topics, including pregnancy, childbirth and early child rearing. They also address chronic conditions such as diabetes, hypertension and asthma. Students create their own lessons for each topic.
WiRED's modules, covering more than 400 topics, are ideally suited for these outreach programs. They're researched and written by medical professionals, peer reviewed by experts, professionally designed by technicians and checked by medical editors. They use the best practices of learning theory — offering key concepts, reinforcement of those key concepts, then final reviews of the concepts to improve understanding and retention. The modules are crafted to be interesting and to hold the attention of general audiences who would not be likely to be drawn to statistics, charts and graphs, and technical jargon. The modules offer colorful images and animations and interactive features that engage an audience and stimulate group discussion.
Dr. Jorge Alemán Pineda, dean of the medical school, and other medical professors carefully examined the collection of Spanish-language modules and gave their approval. The medical students eagerly adopted the modules, in part because the material was researched and packaged and ready to go, but also because the programs enable students to focus their presentations on key concepts and fully engage their audiences. The purpose of these outreach sessions, after all, is to teach communities about basic health, and these tools are ideal for that.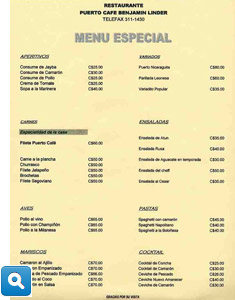 The work in Nicaragua has served as a prototype for WiRED's programs in other regions where we work not only with medical students but also with community health workers, nurses, teachers and others who take the training programs to local audiences. Some programs reach general audiences, but others focus on pregnant women or people with diabetes or patients with asthma. The work in Nicaragua has enabled us to test the general outreach approach, which is now the foundation of our community health education program.
---
WiRED's work in Kosovo, Bosnia and Iraq often faced challenging security issues. As I have written elsewhere in this history series, colleagues working on our health education programs were shot and died from hostile actions. Our centers have suffered from looting and bomb damage, despite our best efforts to safeguard the computer facilities with locks on the doors and bars on the windows.
The fierce Revolution in Nicaragua, fought through the 1980s and costing thousands of lives, ended about a decade before we started operations there, and so WiRED faced none of the hazards we encountered elsewhere. We met many people who suffered from the conflict and from the landmines that remained hidden in the fields, but our own safety was never an issue.
Conditions in Honduras and El Salvador were not as settled. In those countries, drug-related gangs were a major source of violence. Personnel shortages, threats and bribes hobbled the capacity of police to reduce the cruelties occurring in the cities and towns. In 2012 Honduras was considered the murder capital of the world, with more than 20 homicides every day, mainly from drug-related conflicts. Young gang members were most likely to be the victims, but the violence extended into the neighborhoods where innocent people were killed. Those who didn't pay for protection or who offended gang members suffered retribution. The rampant violence in Honduras destabilized the country, changed the culture and drove thousands of people north to the United States in pursuit of safety.
The drug- and gang-related violence in El Salvador, like the violence in Honduras, took thousands of lives and dismantled the social structure of this small country on the western edge of Central America. A truce declared in 2012 held for a while but dissolved by 2014 when the savagery returned; it continues today. Gang member assassinations head the hit list, but street crime, extortion and break-ins are common, dragging innocent people into the carnage. The pressure on young people to join gangs is fierce; in these cultures, there is no security in neutrality. The police here, understaffed and outgunned, have been unable to stem the violence. Law enforcement sometimes resorts to cruel and extreme measures to control the gangs, but these heavy-handed practices rarely have positive outcomes.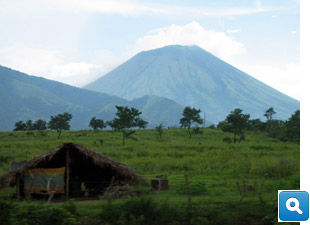 We ventured from Nicaragua into Honduras and El Salvador to install Community Health Education Centers, almost always placing them in hospitals where security is as good as it gets. We were never threatened or faced with danger ourselves. On one occasion, I recall arriving in Tegucigalpa, Honduras, in the early afternoon and learning that already two murders had occurred there that morning. Traffic was being diverted around the shooting scene, not to preserve evidence for an investigation but to remove the bodies. Such incidents provided constant reminders of the abiding threat throughout the region.
La Union, is a beautiful town in the southeastern part of El Salvador, within view of the Pacific Ocean and the towering San Miguel volcano. The town is served by La Union Hospital, where WiRED provided a four-computer health education center to serve the staff and people in the community. Hospitals in any violent country are affected by shootings and street fighting. The staff are trained to deal with trauma cases brought in day or night by the police or more likely by family members. The La Union Hospital has seen more than its share of dead and wounded bodies, but one day the violence came particularly close to home. Several months before we got there, a renowned surgeon, who in his career had saved hundreds and possibly thousands of patients, was walking on the beach with his daughter one evening when he was shot and robbed by street thugs. They hit the surgeon in the spine and left him for dead. He lived but was paralyzed from the neck down; he will never perform his magic in the operating room again.
What concerned me in Honduras and El Salvador wasn't the threat of personal violence but the fact that if something went wrong — if our car broke down or if we got lost — we were on our own in a hostile environment. There were no police to patrol the roads, no ambulances or other assistance services. Call 911? Forget it. You might be helped by good Samaritans but maybe not. The lack of government to provide the structure necessary for a civil society was missing. The gangs had forced communities into protective clusters where people took care of each other but avoided everyone else.
Cohesive forces that bind a population into a functioning society had dissolved from the corrosive poison of the gangs. Daily life was reduced to a struggle for survival. Governments can overreach and over control, of course, but people who reject government out of hand should understand the implications of rejecting all government presence. The government that governs least governs best, perhaps, but advocates of that view might first visit one of these dystopian conflict zones before going too far with it.
---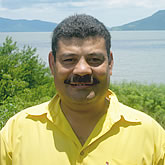 Santiago Castellón
Santiago Castellón, a clinical psychologist who heads up the León-based Walking Unidos NGO, has, from WiRED's earliest days, coordinated all of its projects in Central America. Santiago, a former soldier in the Sandinista army and an official on President Daniel Ortega's security team, has been a good and trusted friend who organized our work in the hospitals, clinics and medical schools in Nicaragua, Honduras and El Salvador. A father of three, Santiago is an affable, bright and resourceful man who has made it possible for WiRED to bring health education to many thousands of people. Of the people I have worked with around the world, he is one of the most resourceful and skilled in dealing with challenging situations. Santiago and I have spent hundreds of hours traveling the roads of Central America and have always found a lot to discuss, and even found humor in the most trying situations. An account of WiRED's work in Nicaragua, Honduras and El Salvador would not be complete without giving Santiago the lion's share of the credit.

This is the ninth story in a series about WiRED International. How it evolved; how it went from providing computers and Internet connections for towns and villages in underserved regions to focusing on medical and health education using computer technology. How it expanded its work throughout the Balkans to Africa, Central and South America to the Middle East and Eurasia. How WiRED's training programs, carried by the Internet, have now become global resources, used by hospitals and clinics, schools, other non-governmental organizations and universities.
An element of WiRED's operation that repeats in every story is that all of WiRED's programs are run mainly by volunteers who have made it possible for WiRED to provide medical and health training programs cost-free to everyone. WiRED's administration is volunteer, we have a volunteer board, and our writers and editors are volunteers. A small paid staff builds and shepherds the training modules through the production process, but even their work is augmented by that of volunteers. I'm proud of the people in the United States and abroad who donate their time and lend their talents to this organization's efforts to provide people in low resource regions with some of the finest public-access, health training material available anywhere.