PRINT
WiRED's Dental Hygiene Modules Impact Armenian Children
BY ANDREA GILS; EDITED BY BERNICE BORN

F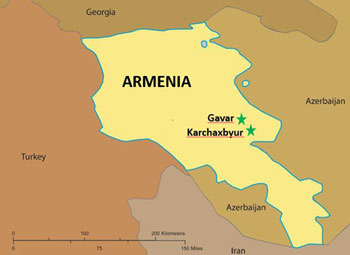 or Armenians living in villages such as Karchaxbyur, located in the province of Gegharkunik, access to information on dental health can be a challenge.
Davit Davtyan, a four-year-old living in Karchaxbyur, is disabled and cannot walk or talk. After his parents saw WiRED International's module on dental health, they were alerted to a peculiar condition of Davit's teeth and took him to a dentist. Davit was diagnosed with several abnormalities and is currently under special home care, with regular check-up visits to the dentist.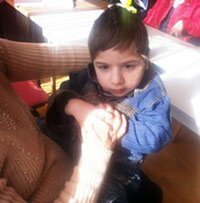 Davit Davtyan
After recognizing the importance of Davit's dental health, his parents now meticulously monitor the teeth of their other five children, demonstrating the positive impact WiRED's training modules can have on a family.
The experiences of Ashot Yeghiazaryan of Gavar provide another encouraging story.
In July 2014 Ashot and his parents participated in a dental care training session organized by the WiRED Gavar Center for Health Education.
During the session, Ashot's parents received advice on dental and oral hygiene, and got the brushes, paste and floss needed for proper dental care. Not only did the WiRED modules help teach Ashot how to protect his teeth and keep them healthy, but his parents were alerted to a potential problem and took their son to a hospital for further examination.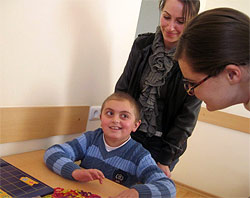 Ashot Yeghiazaryan
In many places in Armenia people have no way of learning about proper dental care, and so they ignore the practice or use poor techniques. That's where WiRED comes in. Our modules offer a valuable source of dental and oral hygiene to help people prevent more serious dental problems. These modules show correct brushing and flossing techniques and describe why dental care is so important, not just for teeth, but for overall good health.
Many Armenians cannot afford medical care in general and have no reliable source of healthcare training. The WiRED International team visited Armenia in 2014 to work with partners to set up centers that provide doctors, healthcare workers and all community members with critical education for health issues prevalent in their country.
WiRED's dental care modules, like all our health education programs, are free to users around the world.
Teaching Armenians about High Blood Pressure

WiRED would like to recognize the efforts of clinician Dr. Anush Kharabaghtsyan and director Mnatsakan Sargsyan of Good Hope NGO, in teaching a group of people in Tsakhashen, Armenia, about the importance of checking blood pressure. Using WiRED's education module, Dr. Kharabaghtsyan instructed his audience on high blood pressure giving its definition, causes, risk factors and associated problems. After the presentation, a follow-up session at a blood pressure station helped trainees put their knowledge into action.
Learning about high blood pressure (hypertension) through WiRED's training program modules delivered critical information about this condition to a community that wouldn't hear about it otherwise.
To learn more about blood pressure download WiRED's free module here.