PRINT
WiRED Completes Upgrades to Community Health Outreach Program
BY ALLISON KOZICHAROW

W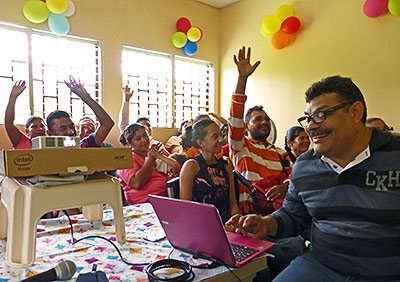 iRED International announces the culmination of a three-year effort to develop a comprehensive training program that offers expertly written, peer-reviewed training material free of charge for all people in underserved regions.
WiRED has tested and enhanced the process of identifying topics, creation and review of modules and their distribution. Further, we have shifted our primary method of releasing programs into communities. We moved away from setting up banks of computers in centers to a group outreach model where "presenters" take the training modules to schools, churches, community centers and other meeting places.
The benefits of group presentations go well beyond efficiency. Group dynamics—remarkable to watch—create a mutually supportive learning environment where people engage in discussions and debates and examine health topics from a local viewpoint. The process engages people in the content and binds people to each other in the discovery of healthy practices.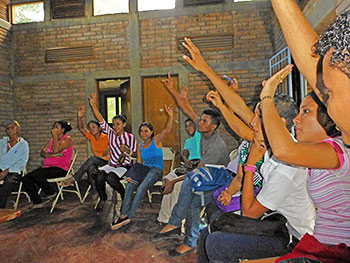 Recently WiRED Director Gary Selnow, Ph.D., and Santiago Castellon, our Nicaraguan coordinator, conducted outreach sessions, using a laptop and small projector, in remote villages with a selection of modules tailored to community needs. People tracked each slide and occasionally asked questions, but when they came to embedded quizzes (designed to reinforce learning), they instantly became animated. They discussed and debated the answers and often called for votes to decide which answer the group would select.
Cheers went up when attendees gave correct answers, and further discussion followed when they were wrong. "It's hard to believe, but these health training sessions nearly had the excitement of a soccer match," said Dr. Selnow.

Via our Filling Station, anyone anywhere can download the entire WiRED e-library, or only some key modules. People can take them on thumb drives or laptops to the remotest parts of the world for individual study or group training sessions.

Sixty-five percent of the world's population cannot access the Web. With low-wattage projectors, our Community Health Education (CHE) programs can be run on solar batteries without the need for an Internet connection. WiRED's creative approach to community health education provides the unique means to place these professional training tools into the most distant regions.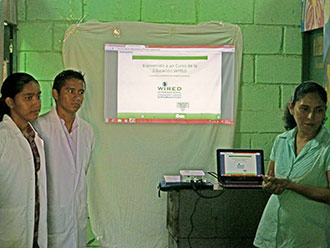 For the past 17 years WiRED has provided health education tools without charge to communities in under-resourced areas. We've worked in war zones, natural disaster areas and in some of the world's most isolated and impoverished places. All our educational tools are technology-based, starting in the 1990s with programs on floppy disks and CD ROMS, currently on flash drives and the Internet.
Today WiRED's CHE program acts as a health education hub that provides nearly 300 health modules specifically customized to the needs of doctors, medical students, nurses and health workers as well as members of underserved communities. WiRED also provides collections of topics for rheumatic heart disease, anatomy, diabetes and women's health to name just a few.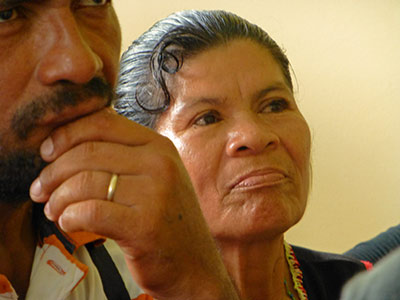 And when polio breaks out in the Middle East or Ebola in West Africa, WiRED rushes to create emergency response training modules, translate them and distribute them throughout afflicted areas. To medically underserved populations, our CHE program often functions as their only gateway to health information.
"Our CHE program can reach many individuals in a way that really can change a community's response to health issues," said WiRED Board Chair Anthony Hodge.
Individuals and communities that understand even the basics of good health can make vast improvements in health outcomes. No matter how we deliver the information, our goal has always been the same: to address the severe global inequality of health knowledge, and accordingly to make all our material available without charge.
Examples of CHE Program Outreach Results

Armenia
Attendees at a recent community meeting learn about hypertension from WiRED's extensive module, and then immediately use a blood pressure station. We will increasingly advance such training/action pairing in our outreach programs.

Kenya
Applicants flock to WiRED's four-tier Certificate Program to study topics that increase their health knowledge and test their understanding of key community health issues.

Nicaragua
Medical students, for the first time, learn about the acquisition and interpretation of echocardiograms to diagnose cardiac conditions through WiRED's echo modules and the use of portable ultrasound equipment.

Peruvian Amazon
WiRED delivers computers loaded with our e-library and solar panels to run it to the remotest regions of Peru—by boat. Now local residents can educate themselves about illness recognition, treatment and prevention.