PRINT
WiRED International Launches Update of Rheumatic Heart Disease Modules for Teachers
BY ALLISON KOZICHAROW AND BERNICE BORN

A
ccording to the World Heart Federation, rheumatic heart disease (RHD) currently affects an estimated 15.6 million people, causing more than 233,000 deaths each year. RHD often begins with a strep throat which, when treated, can completely stop this preventable disease.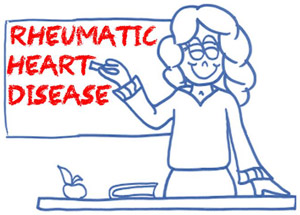 WiRED International has updated its two-part RHD training module for teachers on the heels of the revision of its RHD module for students. (See recent story.) Part 1 explains the special role teachers can play in combating strep throat, rheumatic fever and RHD. Part 2 presents the problems related to RHD. Because they work with children almost every day, teachers are in a good position to identify symptoms that could lead to RHD.
In addition, WiRED offers a suite of RHD modules in order to educate grass roots audiences and health professionals on how to address RHD with a coordinated approach at the community level. WiRED's RHD animation describes the three steps by which strep throat can lead to RHD. In the space of a few minutes, the video describes RHD and explains why it is so serious, why it prevails in underserved communities, and why we need to address it.