PRINT
Sixty-Two Kenyans Graduate from WiRED International's Certificate Program
BY ALLISON KOZICHAROW AND BERNICE BORN

W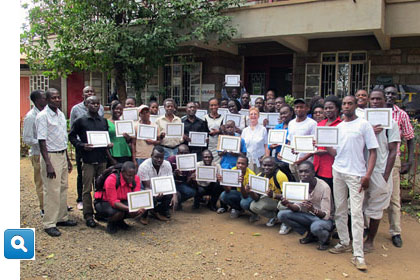 Certificate recipients
iRED International's Certificate Program continues to attract community members in Kisumu, Kenya. Recently, 62 people earned certificates for completing modules from WiRED's Health Learning Center of more than 380 topics. Among the more popular modules are HIV/AIDS Basic Information and Treatment, Malaria, Malaria for Health Workers, Family Planning, STIs and Asthma.
The ceremony drew families and friends of the graduates, and every participant received a certificate and a handshake. Graduates came from every walk of life in the community and included a farmer, a mechanic, teachers, business people and accountants. Eighteen of the graduates were medical students who added to their studies by using the modules. Twenty-three of the graduates were teenagers who had spent hours studying at the Faye F. and Sheldon S. Cohen Community Health Information Center and at the Obunga Community Health Information Center, both in Kisumu.
In 2014, 28 people earned certificates, and in 2015, 49 people earned them. Of the 62 graduates this year, 16 people earned gold certificates for completing 25 modules, 20 earned silver certificates for completing 15 modules, and 26 earned entry-level bronze certificates for completing at least five modules.
The Certificate Program encourages community members to study modules which they select, and, when they are ready, to take a comprehensive exam on the material. To qualify, they must pass with an 80% mark or better. Certificates are not offered as accreditation; their purpose is to confirm successful completion of the training programs.
These programs, which seek to involve the entire community in health education, draw a varied group of people. Community immunity relies on having a broad base of people who are aware of health issues, and this group of certificate earners demonstrates the success of that idea, as they advance the quiet work of prevention.
Recipients of WiRED International's Community Health Education Certificates
GOLD

Brian Obonyo, Clinical Officer
Ruth Atieno, Medical Student
George Mickens Ombaha, Medical Student
Perez Ayalo, Medical Student
Raphael Otieno, Medical Student
Collins Omondi Juma, Medical Student
David Oduor, Medical Student
Nderema Michael, Medical Student
Anyango Emmanuel, Medical Student
Benson Mulemi, Teacher
Leah Bavon, Teacher
Robert Otieno Aweyoh, Mechanic
Victorine Akoth, Medical Student
Solomon Amukondwa Amlaku, Field Officer
Neil Akim Obimo, Medical Student
Judith Omino, Medical Student

SILVER

Shuahib Ishmael, Business Person
Collins Owilli, Clinical Officer
Achieng S Osiro, Business Person
Pascalia Atieno, High School Pupil
Natali Atieno, High School Pupil
Ondego Alwala, Medical Student
Mohammed Macharia Njenga, Hotelier
Ochieng Daniel Oluoch, Medical Student
Kevin Otieno Odhiambo, Mechanic
Gloria Ogwang, Medical Student
Thadeus Oduor Okello, Health Worker
Daniel Odhiambo Ogola, Medical Student
Walter Opondo Otieno, Electrician
Nicholas Gelule, Medical Student
Geofrey Ochieng Augo, Farmer
Irene Atieno Onoka, Medical Student
Rhoda Wamwayi, Business Person
Achieng Seline Osiro, Business Person
David Owuor Ngoya, Medical Student
Roseline A. Mulama, Nursing Officer

BRONZE

Nicholas Otieno, Lab Technologist
Donald Wayumba, High School Pupil
Charles Omondi, High School Pupil
Gordon Brown, High School Pupil
Meshack Otieno, High School Pupil
Newton Omollo, High School Pupil
Robinson Odira, High School Pupil
Brian Odhiambo, High School Pupil
Queen Jane, High School Pupil
Mercy Nelima, High School Pupil
David Ochieng, High School Pupil
Joseph Odoyo, High School Pupil
Stephanie Maryanne, High School Pupil
Lourine Owiti, High School Pupil
Beatrice Mango, High School Pupil
Dorine Mideva, High School Pupil
Mary Adhiambo, High School Pupil
Malon Lubale, High School Pupil
Bramton Wafula, High School Pupil
Brian Oduor, High School Pupil
Raphas Otieno, High School Pupil
Christine Omollo, High School Pupil
Collins Odhiambo, Accountant
Bilha Asike, Nutritionist
Eric Ombuoro, Accountant
Gerishon Maleche, Lab Technologist