PRINT
WiRED Honors Sister Bernadette Nealon and Ms. Lillian Dajoh
with Award for Longtime Service
BY ALLISON KOZICHAROW AND BERNICE BORN

W
iRED International presented Sr. Bernadette Nealon and Lillian Dajoh with the Health Education Champion Award for Outstanding Leadership in the Community Health Education Program for their work among critically underserved populations in Kisumu, Kenya.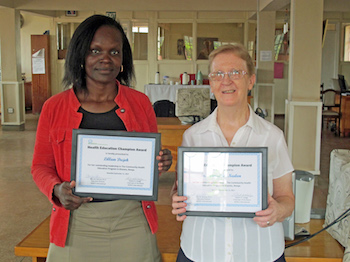 Lillian Dajoh and Sr. Bernadette Nealon
Sr. Bernadette came to Kenya in 1998 to work with disadvantaged communities. Through a partnership with Pandipieri and with Sr. Bernadette's leadership, WiRED has been able to sustain its programs in Kisumu since 2002, starting with a focus on HIV/AIDS and expanding to a broad health education program on a wide range of critical topics today. Lillian started as a staff worker at the WiRED Pandipieri Community Health Education Center. In 2008 she became the staff coordinator and now manages the Centers in Pandipieri (The Faye F. and Sheldon S. Cohen Center) and in Obunga.
WiRED Director Gary Selnow, Ph.D., said, "WiRED has worked in Kisumu with Sr. Bernadette and Lillian for more than 15 years. Our program there would never have materialized or expanded without their help and guidance. Together, they organized our current health outreach programs that have trained so many people through the facilities at Pandipieri and Obunga. Working with dedicated staff members in both locations, they have made WiRED's community health training programs a success beyond our imagination — this year graduating more than 130 people with certificates for completing thousands of modules available at the Pandipieri and Obunga facilities and in our online Health Learning Center."
The two women use WiRED's health education programs to train community health workers, who, in turn, train community members in home-based care for bedridden clients and also train people who are caring for children at home.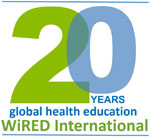 In addition, the centers have attracted students from medical schools who use the modules to conduct their research and prepare for their exams. As WiRED's download program goes online before the end of this year, the number of medical students is expected to expand considerably. Students can study on their own at home, then visit the centers to be tested on the material. Many live a long way off, so access through the download program stands to expand the reach of these health education courses considerably.
Dr. Selnow concluded, "Sr. Bernadette and Lillian have accomplished much and deserve WiRED's recognition during our 20th Anniversary year. Our board congratulates these two Health Education Champions for their remarkable work during the past 15 years."
Watch the video of Sr. Bernadette and Lillian discussing WiRED's contribution to their health awareness efforts at https://vimeo.com/237264289.

Sr. Bernadette Nealon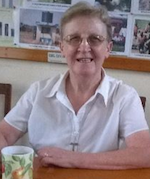 Sr. Bernadette Nealon
My name is Sr. Bernadette Nealon. I am a Franciscan Missionary of St. Joseph. I came to Kenya from Ireland in September 1998 to work in the Archdiocese of Kisumu. I was given the mandate to work in the informal settlements of Kisumu City. I was shocked at the living conditions of the people, but I was overjoyed at their joyfulness, spontaneity and the care they gave to those in need from the little they had.
I was very fortunate that a young man called Jim Adede had joined the Community Health Programme just before I came, and from the beginning we worked well together. Jim was the project officer of the HIV & AIDS project.
Our workplace was one small room which had little ventilation, and eight of us worked there. In July 2001, the construction of the health facility was finished and opened, and there was much rejoicing that such a facility was in place.
Jim loved singing, and each morning my heart would lift as I listened to him singing in his new office. Jim had lots of charm and confidence, and young people came in droves to volunteer in the HIV & AIDS Project. In 2002, whilst in Mombasa at a workshop, Jim met Gary Selnow, and it was there that the Community Health Information Centre (CHIC) was born. Jim and I worked together until 2005 when he got the opportunity to develop his skills and talents in Save the Children UK in Sudan. When Jim left the HIV & AIDS Project, Lillian Dajoh, one of the first young people to be trained by WiRED International, took over the project as project officer.
From 2003–2017 the highlight of each year for us was Professor Gary's visit to Pandipieri. He came loaded with gifts and donations from friends of WiRED that enabled us to help the poor in need. On behalf of the team, I would like to thank all who contributed gifts or donations over the years. We are truly grateful to you and to Professor Gary for bringing all the gifts to Kisumu.
During Professor Gary's trip to Kisumu In September 2017, it was a great privilege for Lillian and me to receive the Health Education Champion Award for Outstanding Leadership in the Community Health Education Programme from WiRED International. We are indebted to Mr. Robert A. Hodge, chairman of the Board of WiRED International, and to Professor Gary, for recommending us for this award. Thank you. — Sr. Bernadette Nealon

Lillian Dajoh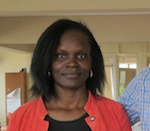 Lillian Dajoh
My name is Lillian Dajoh, the coordinator of the WiRED CHIC in Kisumu, Kenya. I am also the project officer of HIV prevention in Pandipieri. I have a diploma in community health and development. I joined WiRED in 2002 as a young girl. I am now married and have two boys and one girl. WiRED has made me grow. I have a lot of experience in health information, and that makes me very confident. I am able to challenge some medical personnel, because some of them do not update their knowledge after college. Many thanks to Professor Gary Selnow and the team behind the good work of WiRED. Many lives have changed, and many participants have been employed as a result of the certificates they received from the WiRED CHIC. I am a witness of success and the positive impact of WiRED in Kisumu, Kenya. May the team continue with its good work. Happy 20th anniversary. — Lillian Dajoh