PRINT
Report from Haiti
BY ALLISON KOZICHAROW; EDITED BY BERNICE BORN

Y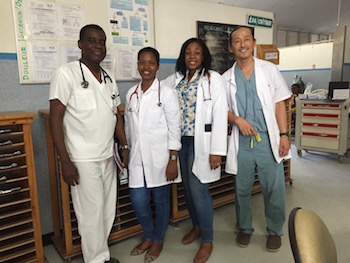 en-Len Tang, M.D., a pediatrician with the Kaiser Permanente Medical Group, recently returned from Haiti, where he regularly provides volunteer medical care in the Hôpital Albert Schweitzer in Deschapelles.
WiRED International first partnered with Dr. Tang in 2015, when he used WiRED's health learning modules for his presentations at the facility's daily medical conferences. It was several years after the devastating 7.0 earthquake; recovery was slow, the staff had no access to medical texts, and online access was difficult.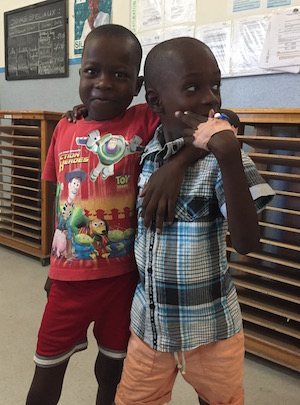 Haiti is the poorest country in the Western Hemisphere. Factor in political unrest, inadequate sanitation, unclean water and devastating hurricanes, and the challenges to healthcare in Haiti are disheartening.
Now, in 2018, Dr. Tang reported, "My presence as a volunteer was timely, in that I expected to relieve the pediatric chief for vacation, but two of the other pediatricians fell ill and there were no replacements available. The staff there work extremely hard, six days a week year-round with cases of intense severity. During my brief two-week stay, nearly 10 children died on the pediatric ward, mostly from extreme prematurity and malnutrition combined with severe infections. At the same time, many dozens of children were helped by the basic but lifesaving care provided."
During this trip, Dr. Tang brought along a new projector supplied by WiRED for the hospital, which he used for his presentation on neonatal resuscitation. He said he was grateful to be able to replace the old projector, whose colors had burned out from continuous use during morning staff conferences over three years.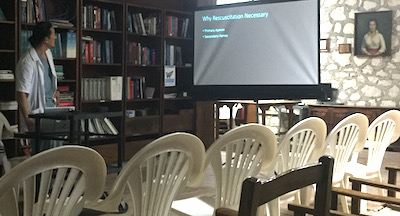 Dr. Tang explained, "Although it may seem like a small item, having a projector to share slides has been a critical part of the ongoing education of the various staff there. The morning conference is often the only regular formal lesson some of the staff encounter, and having a regular format to follow overcomes a lot of the hesitancy to speak in a formal setting."
Although supplies and equipment shortages remain, available technology has improved since Dr. Tang first went to Haiti. He credits WiRED for having provided a bridge to the hospital's current knowledge base.
Haiti currently has the highest rates of infant, under-five and maternal mortality. WiRED Director Gary Selnow, Ph.D., informed Dr. Tang about the recent release of WiRED's Mother and Child Health Series and encouraged him to use that 24-module collection during future trips to Haiti.
Dr. Tang said, "On behalf of the Hôpital Albert Schweitzer Haiti, I'd like to thank the WIRED program for its interest and generosity in facilitating medical education in this challenging environment."
Dr. Tang said he plans to continue his volunteer work in Haiti, and WiRED will continue to report on his experiences there.

Yen-Len Tang, M.D.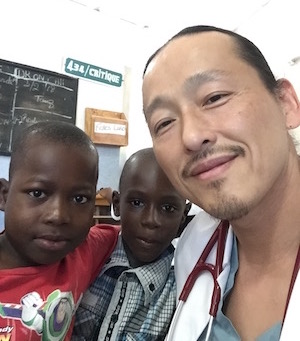 Since 2000 Dr. Tang has served as a pediatric physician for the Kaiser Permanente Medical Group in San Leandro and Oakland, California.
Dr. Tang said, "I have found that hospital pediatric work fits my preference for working with sick children, as it allows me to spend extended periods of time getting to know their families. The Kaiser Hospitals are special in that we serve people from many different communities and cultures who come from all around the world, and I think that it is important for our health system to embrace competency in multicultural care."
Dr. Tang was born in Taiwan and moved to the United States when he was three years old. He received his medical degree from Johns Hopkins University and was a resident at the University of San Francisco Medical Center. After college he spent two and a half years in Botswana in the Peace Corps.
During a leave of absence from the Kaiser Medical Group, Dr. Tang spent the year 2004 working at a charity hospital — Hôpital Albert Schweitzer, in Deschapelles, Haiti, — which serves more than 350,000 people. He now volunteers there for part of each year.
At the hospital Dr. Tang makes rounds on the pediatric ward, which houses half of the total in-patient hospital beds. He said the common illnesses there are pneumonias, gastrointestinal infections, neonatal sepsis and prematurity. He says he believes that with very basic tools such as intravenous fluids, antibiotics and some respiratory treatments, doctors can make a tremendous impact on children outside of a hospital setting.
In addition to his work as a physician, Dr. Tang says he enjoys rock climbing, surfing and skateboarding, as well as painting portraits, making hardwood furniture and cooking.