WiRED Announces Release of Official Organization Video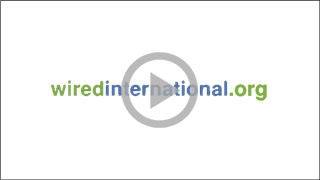 How do you describe WiRED International in five minutes or less? Now WiRED offers a video that can do just that.
The video—in both short and long versions—was developed to demonstrate how a small volunteer-driven organization can bring free medical information and education to people in remote and troubled areas of the world.
WiRED Board Chair Anthony Hodge said, "Now we have a video to show the kind of work that WiRED carries out to address the inequality of health information in areas of scarcity across the globe."
Although our WiRED teams travel regularly to isolated areas such as villages in Africa and along the Peruvian Amazon to educate communities about health, anyone can download our more than 350 modules onto laptops or flash drives and take them anywhere in the world. That means our programs are being distributed in the field not only by us but also by our many partner organizations, by community health workers and by hospitals—thus expanding WiRED's ability to reach and train medically underserved people to take charge of their own health. 
Executive Director Gary Selnow, Ph.D., narrator of the WiRED video, said, "Having our feet on the ground is becoming less important than making it possible for others to carry WIRED's material into resource-starved regions."
Check out our video on the website and get the word out through email and social media.
WiRED wishes to thank the people behind the WiRED Video:
Virgil Scudder
Mr. Scudder, a member of WiRED's governing board, produced, edited and funded the video. He is president of Virgil Scudder & Associates, a Miami-based executive communications and media relations firm. Prior to starting his own firm in 1990, he was senior vice president of Hill & Knowlton.

Jon Ecklund
Mr. Ecklund created our video. His production company, Dream Out Loud Media, produces web commercials, training and industrial videos, and settlement videos (in association with LifeNow Video). He also covers live theatrical productions and helps people with small budgets get the most production value for their money.