PRINT
WiRED Announces Program Initiative in Honor of Ambassador Chris Stevens
BY ALLISON KOZICHAROW AND BERNICE BORN

W

Ambassador J. Christopher Stevens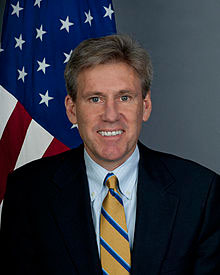 Ambassador Stevens earned a B.A. in history in 1982 at the University of California, Berkeley. From 1983 to 1985, he taught English as a Peace Corps volunteer in Morocco. In 1989, he graduated with a J.D. degree from the University of California, Hastings College of the Law, and in 2010 he received an M.S. degree from the National War College in Washington, D.C.
Ambassador Stevens joined the United States Foreign Service in 1991. His early overseas assignments included posts in Jerusalem, Damascus, Cairo and Riyadh. In Washington, D.C., he acted as Director of the Office of Multilateral Nuclear and Security Affairs. He served as ambassador to Libya until his death in 2012.
In a National Public Radio interview, journalist Robin Wright described Ambassador Stevens as "… one of the really talented U.S. envoys who knew the region so very well. He knew the streets, as well as the elites. He spoke the language. He understood the culture. He was one of those who got out and really knew a cross-section of whatever community he lived in."
For more information, please click here.

iRED International announces the launch of the Community
Health Education Initiative in Honor of the late U.S. Ambassador
J. Christopher Stevens.
Board Chair Anthony Hodge and the ambassador's sister, Anne Marguerite
Stevens, M.D., Ph.D., unveiled the initiative during a recent WiRED reception in
San Francisco, California. WiRED has established a special fund to underwrite
this program, which began with generous contributions from Mr. Hodge and
Dr. Stevens.
This initiative will enable WiRED to provide its entire training library, computer and display hardware and train-the-trainer programs to doctors and organizations in
low resource areas of the world to enable them to run community health
education sessions.
During the reception, Mr. Hodge said, "This initiative will honor Chris's memory by allowing WiRED's programs to bridge gaps in medical and health education in developing communities all over the globe — something my late wife Edie believed
in strongly as well."
WiRED will soon issue a request for proposals in developing countries inviting clinics, medical schools and local nongovernmental organizations to submit applications for involvement in the program.
Since Ambassador Stevens believed in community engagement and public diplomacy, his philosophy corresponds with WiRED's longstanding approach to programs and practices. WiRED's initiative honors Ambassador Stevens by further extending the outreach of the global medical community to underserved populations.
Dr. Stevens added, "My brother was working to facilitate relationships between the people of the United States and the people of Libya." She said that he planned to open an American library there, and he was supporting the launch of a medical educational exchange program.
Although WiRED has not worked in Libya, its extensive health education programs
in Iraq and in Jordan provide useful and relevant experience in reaching medical professionals and grassroots populations in the Middle East. The present initiative
will extend globally and will include efforts to reach out to countries throughout the Middle East.
Dr. Stevens said, "The work that Wired International is doing in this program established in Chris's name will connect WiRED's medical professionals with communities around the world who are eager to learn and eager to improve medical care."
To donate to the Community Health Education initiative
in Honor of Ambassador J. Christopher Stevens

WiRED launched a prototype to test and refine the program this summer when Yen-Len Tang, M.D., a California-based physician, volunteered for a medical mission to Haiti (see earlier story). Dr. Tang, who has been working in Haiti for 10 years, wanted to provide training using WiRED's Learning Center modules. WiRED supplied him with a projector and the module library and reviewed procedures typically used in WiRED sessions. Dr. Tang made presentations to medical professionals in Haiti using WiRED's resources, and he returned to the United States with useful feedback. When he returns to Haiti early next year, WiRED will outfit him with additional hardware and an updated library. Dr. Tang will be among the first to operate a program under the initiative.