PRINT
WiRED Releases Nursing Mother's Nutrition and Child Nutrition Modules
BY ALLISON KOZICHAROW; EDITED BY BERNICE BORN

P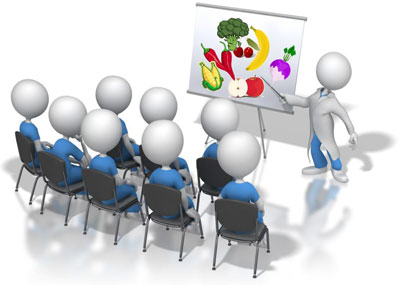 roper sustenance is vital for all living things. WiRED International just launched two modules on nutrition into its Health Learning Center: Nursing Mother's Nutrition and Child Nutrition. Both modules are part of the Becoming a Parent section in WiRED's soon-to-be-completed 24-part Mother and Child Health Series.

Read More

Pregnancy and breastfeeding place many demands on a woman's body. It is necessary for a mother to eat well to keep herself and her baby well nourished. WiRED's Nursing Mother's Nutrition Module discusses formulating a food plan, maintaining a healthy diet, eating seafood, drinking fluids, getting adequate vitamins and minerals, abstaining from alcohol and tobacco, and understanding the effects of medications, physical fitness and food safety.
Poor nutrition, especially early in life, can lead to reduced immunity, increased susceptibility to disease, impaired physical and mental development, and reduced productivity. WiRED's Child Nutrition Module covers nutritional requirements for children, guidelines on healthy eating, food groups and recommended calories and physical activities.
The World Health Organization (WHO) states that good nutrition "is a cornerstone of good health." Read WiRED's two new modules to learn how to give children the right start in life through breastfeeding and a subsequent healthy diet and exercise.


You can download the modules in this story, and all 400+ of our health modules, through WiRED's Health Module Access Program (HealthMAP) by clicking here. This easy to use program will enable you to create your own customized library of health education training modules. You can learn more about HealthMAP through WiRED's animation.
Quiz Questions from WiRED's Child Nutrition and Nursing Mother's Nutrition Modules


WiRED's Mother and Child Health Series
WiRED's Mother and Child Health Series provides a 24-part comprehensive training program to assist families, caregivers, community health workers and others with subjects related to the following four topics: Before Pregnancy, Pregnant Now, Labor and Delivery, and Parenting. The Mother and Child Health series will be used by schools, clinics and hospitals and nongovernmental organizations that help families prepare for a healthy pregnancy, delivery and the years of childhood up to age five.
WiRED embraces WHO's maternal, newborn and child health principle, "Continuum of Care," in which skilled care during pregnancy, childbirth and the postnatal period prevents complications and allows for their early detection and appropriate management.