PRINT
WiRED Brings Medical and Health Information to Nicaragua
BY ALLISON KOZICHAROW; EDITED BY BERNICE BORN

T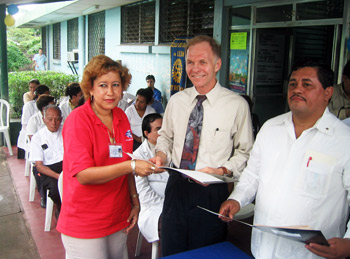 Click image to enlarge
his week WiRED International will return to Nicaragua after nearly a year to provide projectors, laptops and our Community Health Education Library to a leading medical school, hospitals and community organizations. WiRED's goal is to bring current health information to medical professionals and community health workers in order to educate patients and families to take part in their own health care.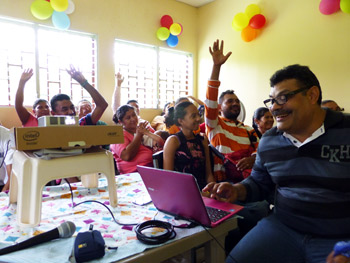 Click image to enlarge
The team will be led by WiRED Director, Gary Selnow, Ph.D., and Santiago Castellon, WiRED's coordinator in Central America. WiRED will work in the towns of La Trinidad, El Sauce, El Tololar and León in western Nicaragua. We also will visit several of the facilities we set up in past years, where we will deliver the Spanish-language versions of modules and update the full WiRED library.
In addition to community training, WiRED will offer a range of training programs for nurses, community health workers and primary care providers. Our modules will enable these medical professionals to bring health education into their practices and outreach work.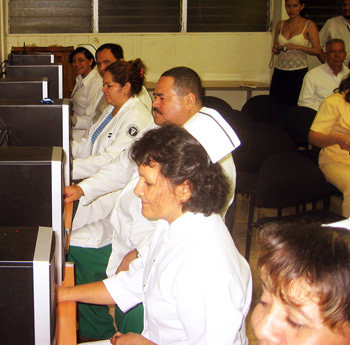 Click image to enlarge
For example, the WiRED echocardiogram training program for rheumatic heart disease (RHD) is designed to guide healthcare professionals in the diagnosis of rheumatic heart disease and in the use of portable ultrasound equipment. That entire 10-part course is being translated into Spanish, but many professionals can use the program in English until the Spanish version becomes available around Thanksgiving.
Last September the WiRED team introduced people in remote villages to a selection of modules tailored to community needs (see earlier story) and presented our RHD modules to medical students as well.
According to the World Health Organization, Nicaragua's most pressing health concerns include high incidences of infant and maternal mortality, malaria and tuberculosis. The highest rates of mortality there occur from noncommunicable diseases such as cardiovascular disease, diabetes and cancer.