PRINT
John Oduor Wanjir Uses WiRED Programs to Teach Prisoners in Kenya
BY ALLISON KOZICHAROW AND BERNICE BORN

I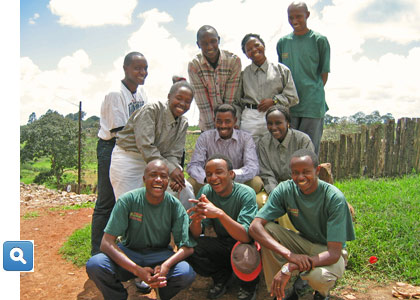 The group of young people from Kiambu who went to
Mombasa in 2002 to receive computer training from WiRED.
John is in the lower left portion of the group.
n 2002 a Kenyan named John Oduor Wanjir attended a WiRED International training in Mombasa, where WiRED International Director Dr. Gary Selnow taught a small group of young people basic computer and Internet skills. From that beginning, John now uses WiRED health education programs to teach men in two Kenyan prisons about health.
The knowledge he gained 14 years ago enabled John and his friends to set up a WiRED community health education center in Kiambu, a city near Nairobi. Eventually, John, who has a physical handicap, set up his own nongovernmental organization called The Silent World Foundation to work with deaf people. That effort morphed into a larger health outreach program for vulnerable and disabled persons.
Last year WiRED supplied John and his associates with a computer and projector and a complete WiRED Health Learning Center e-library. John put the WiRED programs to the test during a health education promotion project in Kiambu GK and Athi River GK prisons.
The project sought to improve the health literacy, self-care management skills and personal healthcare decision-making of participating inmates. One hundred inmates studied the following WiRED modules: HIV/AIDS, sexually transmitted infections, alcohol and substance abuse, sanitation and hygiene and water and health.
John said, "Many of these prisoners never had access to health care and health promotion services before their imprisonment." WiRED offers its free training programs to empower people like John to improve the health knowledge of people in underserved communities.