PRINT
WiRED Launches New Module: Introduction to Labor and Delivery
BY ALLISON KOZICHAROW; EDITED BY BERNICE BORN

G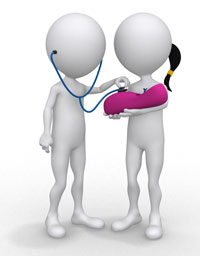 iving birth can be stressful as well as joyful. Knowing what to expect can help make the experience of having a baby a calmer, happier and safer experience.
WiRED's module on labor and delivery serves as an introduction to the topic by giving guidelines to pregnant women. It covers false labor, signs and stages of labor and presents an overview of pain management techniques, cesarean delivery and more.
This module is one of a 24-part Mother and Child Health Series and begins a seven-part section on pregnancy. These modules enable parents to make better choices and to give their children a healthy start in life. WiRED plans to expand and add modules to this series in future.
The majority of deaths suffered around the world by mothers in pregnancy and childbirth are preventable, according to the World Health Organization. The sad fact is that 99% of all maternal deaths occur in developing countries.
WiRED believes that ensuring a safe labor and delivery means educating women and community health workers about all aspects of pregnancy and childbirth. Community training and skilled care before, during and after childbirth can save the lives of women and newborn babies.


You can download the modules mentioned in this story, and all 400+ of WiRED's health modules, through WiRED's Health Module Access Program (HealthMAP) by clicking here. This easy-to-use free program will enable you to create your own customized collection of health learning modules. You can learn more about HealthMAP through WiRED's animation.

WiRED's Mother and Child Health Series
WiRED's Mother and Child Health Series provides a 24-part comprehensive training program to assist families, caregivers, community health workers and others by offering information related to the following four topics:
• Before Pregnancy
• Pregnant Now
• Labor and Delivery
• Parenting
The Mother and Child Health series will be used by schools, clinics and hospitals and nongovernmental organizations that help families prepare for a healthy pregnancy, delivery and the years of childhood up to age five. This entire program is available online, and it also can be downloaded for use offline through WiRED's HealthMAP program.
WiRED embraces WHO's maternal, newborn and child health principle, "Continuum of Care," in which skilled care during pregnancy, childbirth and the postnatal period prevents complications and allows for their early detection and appropriate management.