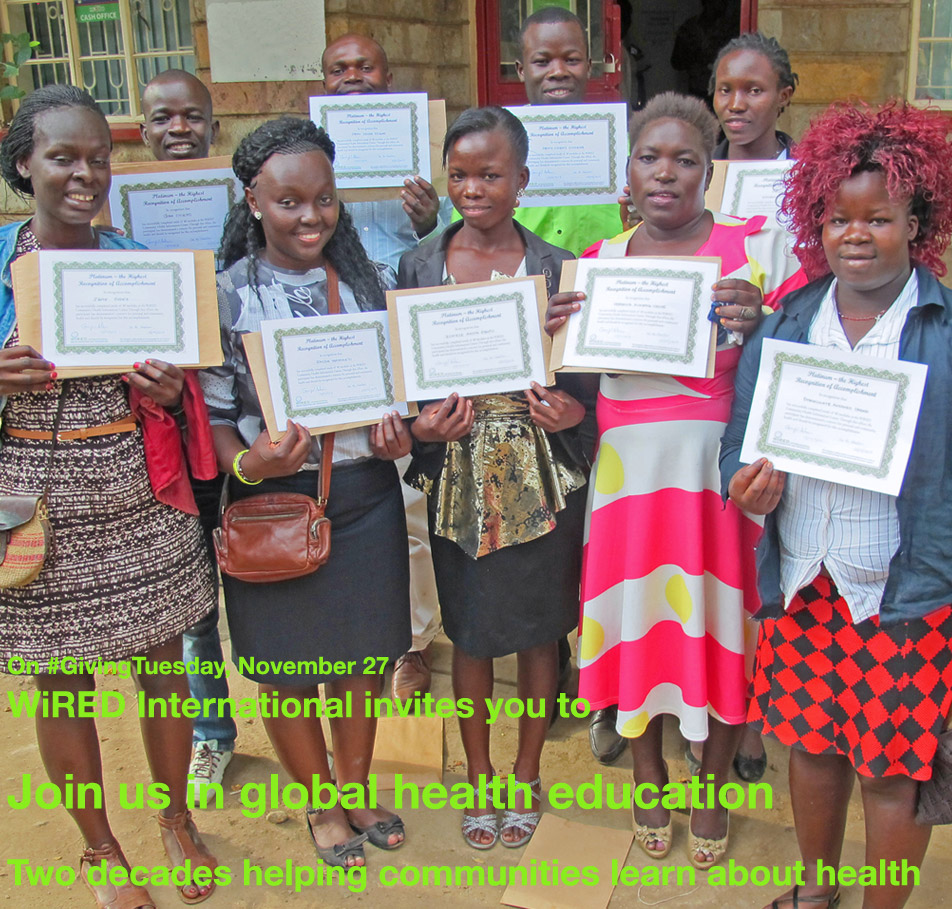 PRINT
Here's a great opportunity to support health education in low-resource regions

T
his is WiREDís 21st year of providing community health education to underserved populations around the world. We deliver more than 400 health topics that people can study online or download to their laptops and tablets, and we never charge a cent for any of our training material.
As you plan your gift-giving this year, we ask that you consider a donation to WiRED International. Because we are volunteer driven, fully 95% of your donation will go directly to our programs. We pledge to use your money wisely, honestly and efficiently as we continue our work to provide life-saving health education in under-served regions.
If you have a moment, check out our evidence-based training material — doctor-written and peer reviewed. We welcome you to use the material online or download it for free to your own computer or tablet.

#GivingTuesday: November 27
This year #GivingTuesday falls on November 27. Facebook, this year, will match up to $7 million of funds raised on Facebook for U.S. nonprofits. Facebook is also waiving its fees for donations made to nonprofits on Facebook this #GivingTuesday.
Donations to nonprofits made through Facebookís charitable giving tools on November 27 will be matched up to $50,000 per nonprofit or $1,000 per fundraiser or donate button, until the $7 million in matching funds run out. The match will begin at 8 a.m. EST (5 a.m. PST).
So remember, use the Facebook donate button on WiRED Internationalís Facebook page on November 27 to have your donation matched.
Make payments with PayPal - it's fast, free and secure!
Please print this form and mail it back to WiRED.
You will need Adobe Reader (a free program) to open this form; you may download it by clicking here.
Or, simply send your donation to:
WiRED International
P.O. Box 371132
Montara, CA 94037-1132