PRINT
WiRED's Gestational Diabetes Training in Armenia
BY ALLISON KOZICHAROW AND BERNICE BORN

A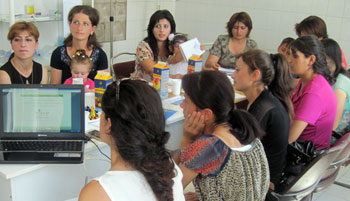 Click image to enlarge
group of pregnant women and mothers in the mountain village of Karmirghuygh, Armenia, recently participated in a health education training session during which presenters used the WiRED International Gestational Diabetes (GD) module.
The presenters were Anahit Stepanyan, a kindergarten director, and Mariam Sargsyan, a WiRED International Armenia volunteer. The WiRED Gestational Diabetes module describes the causes, risks, diagnosis, treatment and effects on unborn babies of gestational diabetes.
According to Ms. Sargsyan, there is no prenatal service for pregnant women in Karmirghuygh. Although GD is not a common ailment there, she said it was important for expectant mothers to know about it for the purposes of early diagnosis and prevention.
Ms. Sargsyan said, "It is encouraging to see the effect of the WiRED International module in creating awareness about gestational diabetes. The topic of GD should be included as a part of routine healthcare education programs for pregnant women."
GD is a type of diabetes that can appear for the first time when a woman is pregnant. It is a serious condition, often without symptoms. Women with GD are at an increased risk of developing high blood pressure during pregnancy. Moreover, women with GD face higher probabilities of needing a Cesarean delivery and of having babies with health problems. These women are also at increased risk of having type 2 diabetes in the future.

Karmirghuygh, Armenia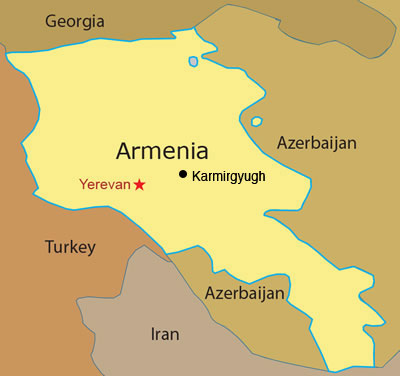 Click image to enlarge
Karmirghuygh (Armenian: Կարմիրգյուղ, meaning Red Village) was founded in 1831 and is a major town in the Gegharkunik Province of Armenia. Karmirghuygh's population of approximately 6,500 people mainly farm, ranch or fish. The village has two ruined churches, Saint Astvatsatsin and Saint Grigor, and was the discovery site of a boundary stone of King Artaxias I, inscribed in Aramaic. Urartian ruins are located nearby. The Gavar River flows through Karmirghuygh and divides it into two parts.

GD is diagnosed through glucose testing during prenatal screening, rather than by self-reported symptoms. Treatment includes a healthy eating plan, physical activity and insulin injections, if needed. Treating GD can help both the mother and her baby stay healthy.
Ms. Sargsyan said, "All women of childbearing age should know about GD, its risks and treatment options. A higher level of awareness will surely improve their pregnancy outcomes. With the right tools and knowledge, GD can be controlled."
The next health education trainings for the community of Karmirghuygh will cover the topics of quitting smoking, controlling high blood pressure and practicing good dental hygiene.
Test your gestational diabetes IQ with sample quiz questions from the WiRED module.