WiRED Honors Contributions to Health Training in Armenia
BY ALLISON KOZICHAROW; EDITED BY BERNICE BORN

Today, poverty, scarce healthcare resources and the lack of reliable medical information are creating a healthcare crisis for the people of Armenia, and WiRED International is responding to their needs.
In May, 24 Armenian volunteers and organizations received certificates of appreciation for accomplishments such as translating 18 WiRED health learning modules into Armenian, offering training sessions and generally promoting the partnership of WiRED-Armenia and WiRED International.
WiRED-Armenia Director Sebouh Baghdoyan presented these WiRED certificates during several ceremonies in various Armenian cities. Mr. Baghdoyan is a retired United Nations program officer, who has directed WiRED-Armenia from its start in 2012. He coordinates country activities, including partner relations, training, identifying volunteer-translators and the delivery of health learning programs.

WiRED and WiRED-Armenia

Since 2012 WiRED has worked in Armenia to provide programs that allow doctors, community health workers and community members access to critical education to combat health issues relevant to Armenia's underserved people. Health learning events, employing WiRED's training modules, have been sponsored by WiRED-Armenia, its close partner on many community education projects. For information on WiRED's work in Armenia, go to the WiRED International – Armenia Facebook page.
"Aiding the disadvantaged and the deprived individuals and communities is a privilege that we all possess, and I am pleased to be in a position to assist people in need," said Mr. Baghdoyan. "With a little assistance — in this case with basic knowledge about good health practices — people can make major strides to improve their lives and the lives of their children."

WiRED-Armenia Translators

Thanks to its dedicated translators, WiRED International's Health Learning Center now offers 18 health education modules in the eastern Armenian language on topics of interest in Armenia such as blood pressure, diabetes, dental hygiene, smoking cessation, polio and general anatomy.
Orthopedic surgeon Ara Nahabedian, M.D., of Crewe, England, supervises the translations, and Ms. Mariam Sargsyan, of the Good Hope NGO in Gavar, coordinates the work of a team of currently 17 translators.
Ms. Sargsyan said, "We have a unique and useful approach in directly and effectively assisting the health information requirements of our region. The use of questionnaires for parents, doctors, students and teachers in our respective regions helps us come up with an updated list of our communities' health education needs and enables us to plan the translations."
WiRED's success in improving the health of Armenians rests solidly on its many partners and volunteers. WiRED awarded certificates to many of these partner organizations, including Armenia Caritas, Good Hope and Orran. A full list accompanies this article.
WiRED-Armenia continues to strengthen its partnerships and bring in new partners to expand the health learning opportunities for communities throughout Armenia. For instance, Mr. Baghdoyan recently attended the opening ceremony of the Children of Armenia Fund (COAF) Smart Center where he met with Arsen Torosyan, the newly appointed Armenian Minister of Health, Arayik Haruyunyan, the Minister of Education and Science, and Dr. Armen Garo, Director of COAF.
Mr. Baghdoyan said, "I informed them about our WiRED activities in Armenia, and I invited them to consider introducing WiRED's programs into their respective health institutions and schools/universities. Both of the ministers and Dr. Armen excitedly welcomed our initiative and promised to ask their respective staffs to contact me for further information."
In a recent strategy to advance community wellness, WiRED-Armenia has combined training programs with health screening measures for participants, which puts training into immediate action. The partnership will continue to improve the health prospects of the Armenian people by providing communities in this post-Soviet state with accurate, reliable and effective health education, administrative support and training.
Certificate Awardees
• Mr. Varazdat Karapetyan, Advisor to the Prime Minister of Armenia
• Armenia Caritas
• Orran, Yerevan
• Pomegranate Seed Communities Development Foundation, Martuni, Chambarak
• Good Hope, Gavar
• Community Center for Development, Noyemberyan
• Khariskh, Sisyan
• Vanadzor Medical Center
• Astghavard NGO for Disabled Children, Vardenis

WiRED International Armenian Translation Team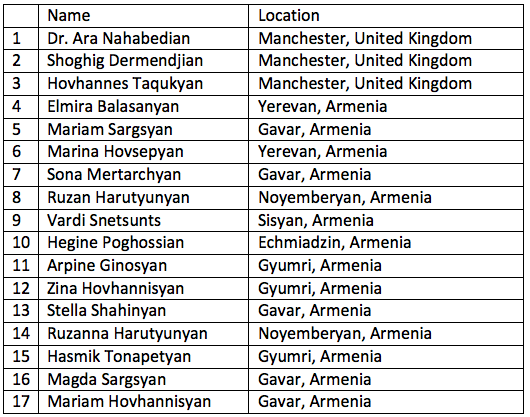 WiRED-Armenia Team Health Learning Presentation Teaches Children about Anatomy
In early July a group of children learned about anatomy at the Good Hope NGO in Gavar, Armenia. WiRED Coordinator Mariam Sargsyan used WiRED's Anatomy Series modules, translated into Armenian, during the presentation. She said, "We were pleased to teach the children about the structure of the human body, its major systems and the organs that make up these systems. Then the kids were given an opportunity to put their knowledge into practice through hands-on activities."