Children in Armenia Learn about Dental Hygiene from Dental Student and WiRED International
BY ALLISON KOZICHAROW AND BERNICE BORN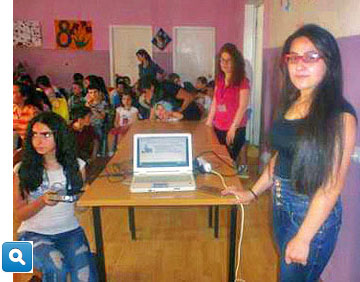 Dental student Susanna Stepanyan teaches
about dental hygiene
This August Ms. Susanna Stepanyan, a student of the dentistry faculty of the Yerevan State Medical University, Armenia, gave a presentation on dental hygiene at the summer camp of the "Astghavard" Centre for Health Education.
Ms. Stepanyan used the WiRED International Dental Hygiene module to explain good practices to children from the cities of Akunq, Medz Masrik, Dzovak, and Vardenis.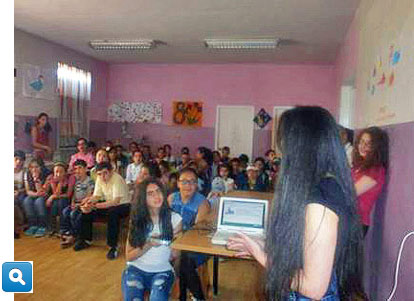 In many places in Armenia people have no way of learning about proper dental care, and so they ignore the practice or use poor techniques. That's where WiRED and local trainers come in. The modules — in English, Spanish and Armenian — offer a valuable source of dental and oral hygiene to help people prevent more serious dental problems. These modules show correct brushing and flossing techniques and describe why dental care is so important, not just for teeth but for overall good health. The trainers, using these modules, help explain details and answer questions for the audience.
Many Armenians cannot afford medical care in general and have no reliable source of healthcare training. The WiRED International team works with Armenian partners to set up centers that provide doctors, healthcare workers and all community members with critical education for health issues prevalent in their country.
WiRED's dental care modules, like all its health education programs, are free to users around the world.