PRINT
WiRED International's 2016 Preview
BY GARY SELNOW, WiRED EXECUTIVE DIRECTOR; EDITED BY BERNICE BORN

W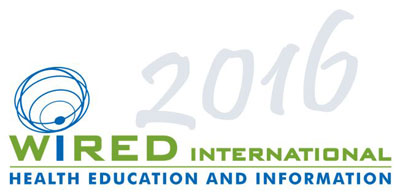 iRED International's volunteers, board and staff look forward to a busy and productive 2016. Our plans include the addition of several dozen new modules to the Health Learning Center and updates which will reflect new research and thinking about topics already in the library. We look forward to expanding our partnerships with medical schools, clinics and nongovernmental organizations around the world as we continue to grow the Center for the Development and Distribution of Health Education Programs. WiRED is the only source of cost-free, interactive health training programs for grassroots communities, and our professionally developed material is being used increasingly by organizations and institutions that promote good health through community education.
While we chart the course for 2016 and concentrate on our goals, we always remain alert to evolving health issues that threaten communities, sometimes very small communities, that have few resources to combat the dangers. In the past, these health issues have included Ebola, polio and Middle East Respiratory Syndrome. At present we're responding to the Zika threat that has been linked with microcephaly, a debilitating and deadly condition that affects developing fetuses. Our constant surveillance of global health conditions and our ready team of volunteer medical experts position us to respond quickly with training material we can make available through the Internet. Within days WiRED can develop training material for medical professionals and grassroots audiences, helping them to understand the threat and to respond appropriately, given the current expert thinking about an illness.
In addition to developing the Health Learning Center library and remaining ever-watchful of global health conditions, WiRED will continue to develop two large programs we started last year. With support from Medtronic Philanthropy, WiRED initiated a major project that helps communities prepare for the incursion of infectious diseases by training and coordinating with local leaders. Started under an Ebola project, this program will provide an extensive interactive library of material that will bring together the efforts of local governments, schools, businesses and medical professionals as they prepare for and deal with diseases spread by air, water, vector (e.g., mosquito) or human-to-human contact. A specially designed computer program will be used to present this material to appropriate audiences.
At the end of 2015 WiRED launched a major initiative to honor the late Ambassador J. Christopher Stevens. The Ambassador's approach to diplomacy was to include local people and involve them in larger issues. That philosophy squares with WiRED's view of community health, where we believe an educated population base can become a significant force in dealing with larger health issues. The efforts of medical professionals are important, of course, in maintaining health, but to be effective, the involvement of local residents is also essential. This initiative will enable WiRED to reach out to disenfranchised populations by offering the tools needed to provide sound community health education. The project started in 2015 when we issued a request for proposals inviting regional organizations and medical schools to participate in the program. We have received a number of proposals, which we will track early this year as we roll out the program.
Finally, while relying more on partnerships and collaborations to distribute its health education materials, WiRED retains an active physical presence in several locations, such as Kenya, the Peruvian Amazon, Nicaragua and Armenia. WiRED will continue to support and expand these facilities during the year and plans to add two or three new locations as well.
All of us at WiRED look forward to a year in which we make significant contributions to improving community health, especially in low-resource regions, often forgotten by governments and other organizations. We welcome new volunteers, donors and experts to assist in our mission of bringing vital medical and health education, free of charge, to underserved communities around the world.