PRINT
WiRED International 2014 Year-End Review
BY ALLISON KOZICHAROW; EDITED BY BERNICE BORN

T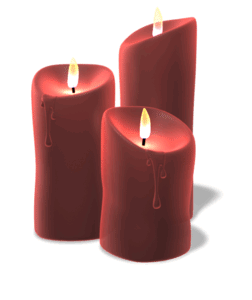 he past year marked WiRED International's completion of a three-year effort to develop a comprehensive health training program that offers expertly written, peer-reviewed training material free of charge for everyone. We fine-tuned our process to create new material for our unique Community Health Education (CHE) e-library and to deliver it successfully in order to improve the health of the neediest populations. We are now able to package our information onto thumb drives and laptops and take it into the field where our programs often function as the only source of health information. Moreover, people on any continent can download the entire e-library and update it whenever they wish.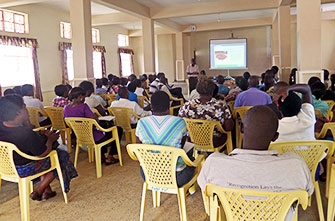 Community health care worker Ebola training session, Kisumu, Kenya
Further, we upgraded our primary method of releasing programs into communities: we moved away from setting up banks of computers in centers to a group outreach model where presenters take the interactive training modules to schools, churches, community centers and other meeting places.
We expanded our Community Health Education e-library considerably by adding dozens of new modules for grassroots audiences and opening entire sections for physicians, nurses and community health workers. We distributed our 300+ training courses in many additional countries by way of partnerships with other organizations, and we continued our direct involvement in Kenya, Peru, Nicaragua, Honduras, El Salvador and Armenia. Much of this work was undertaken with the support of individuals and family foundations. We are especially grateful to Medtronic Philanthropy for its concern about good health among under-served populations, for its belief in WiRED's educational work and for its underwriting of many elements in our program.
We launched our "Filling Station," a vital tool for expanding the global reach of our e-library to communities off the grid. Our Filling Station provides file synchronization (or syncing), whereby a person's computer can upload data from a master file through an automatic process that adds only new or changed material. This is original; no other organization or medical school has done anything like it.
Because we release a new or updated module almost every week, health workers without Internet access face the challenge of keeping their CHE e-library up to date. Our Filling Station allows instant updating of our entire e-library from any Internet access point in the world. Hospitals, clinics, schools, community health workers, and others who use our programs can access new and update items easily and rapidly.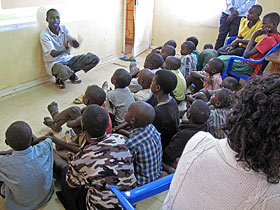 Student Ebola training program, Kisumu, Kenya
In 2013 we released our first rapid response modules on polio and severe malnutrition. This year, when Ebola broke out in West Africa, WiRED International sped creation of a training module on the illness for community health workers and others facing the crisis, translated it into French and distributed it throughout afflicted areas. We since have completed a module designed to teach students about Ebola and a module to teach health care workers about infection control and prevention. We have also developed a module that teaches burial management teams how to bury Ebola victims safely and humanely. Finally, because hand washing is such a critical element in preventing the spread of infections—including Ebola—we wrote a module focusing on proper hand washing techniques. While we continue to circulate our Ebola modules in West Africa, we are stepping up our efforts to educate all Africans on this deadly disease before it can advance.
WiRED also provides collections of topics on rheumatic heart disease (RHD), anatomy, diabetes and women's health to name just a few. With the help of a grant from Medtronic Philanthropy, WiRED International completed an echocardiogram training series on RHD, since early detection through screening and treatment can head off a worsening condition and even death. Our series, written by a three-member team of specialists and created as interactive training programs, provides a tool to be used throughout regions of scarcity worldwide. Through thumb drives containing the modules or through Internet access, nurses and professional health workers can employ their knowledge to identify patients with possible RHD in underserved communities. In the spring of 2014 WiRED released this series at the World Congress on Cardiology in Melbourne, Australia.
In 2014 WiRED International also advanced work begun the year before in Armenia where we partnered with eight local non-profits and increased translations of modules key to community health issues. Our partners host community meetings for pregnant women, diabetes patients, elderly people and others who can benefit from focused health education. Moreover, they're reaching out to schools to teach children about good hygiene, diet, exercise and other basic healthy practices.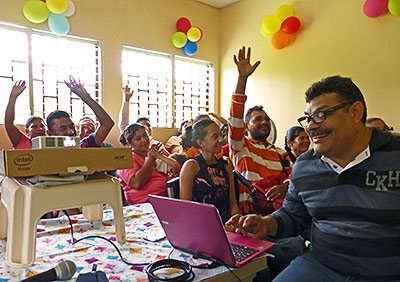 Community health training program, Nicaragua
We widened our work in the Peruvian Amazon by providing our e-library to two clinics in remote regions. In one, which is entirely off the power grid, we supplied solar equipment to run our program and provide light. This project was funded by individual donations, and we partnered as before with Project Amazonas. Our centers educate the community about health issues identified previously as critical and specific to these populations. They include maternal and child health, nutrition, water-borne diseases and treatments, oral rehydration therapy and a range of tropical illnesses.
In addition, WiRED International journeyed to Nicaragua to demonstrate and launch its CHE program to local medical students and health trainers. Since 2012 WiRED has set up nearly two dozen health information centers in clinics and hospitals throughout Nicaragua. Now we have returned to establish our first CHE outreach program, where non-governmental organizations and medical students from the University of Leon will use laptops and projectors to take health training to schools, churches, clinics and communities.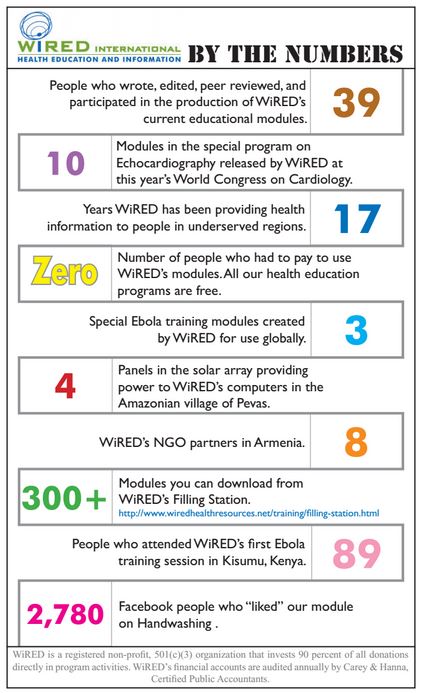 Furthermore, 2014 marks our 12th year of operation in Kenya, where we continue our community health outreach programs and certificate programs and now provide Ebola awareness training. This year, 49 people earned training certificates, nearly twice as many as those who earned them in 2013. Eight people received the highest level—Platinum—for having mastered the material of more than 40 health topics. To date our programs have given thousands of people the knowledge to guide their own health care.
What drives the WiRED International process of creating health education training modules? People who believe in the mission: making reliable health and medical information available to underserved populations. People in the development chain are volunteers or work for modest salaries. No one pays to use our educational programs. Most could never afford them.
We are fortunate to welcome to our Governing Board of Directors Anne Marguerite Stevens, M.D., Ph.D. Dr. Stevens is Associate Professor, Department of Pediatrics, University of Washington, and specializes in pediatric autoimmune diseases. Her practice at Seattle Children's Hospital is in pediatric rheumatology.
We believe that health literacy among a sufficient number of people in a community protects the entire community or at least helps its members to withstand an assault on their wellbeing. No outside organization alone can successfully carry out this work. Local communities themselves must take the initiative. We at WiRED believe in delivering the tools to help them do so.
Our approach to community health education is one of a kind, and it works. We have cultivated a community health learning environment that relies on a group dynamic of interaction, positive reinforcement and cultivation of community norms and expectations. We believe that when we bring people together, provide them with health education programs and let them engage with the material and each other they will act on what they learn.
In 2014 WiRED International fine-tuned our mission to involve people actively in their own health in order to eliminate the inequality of health knowledge so sadly present in remote and medically starved regions of the world.